Bust-a-Move Universe Review
RECOMMENDATION:

For those who absolutely need a puzzle game for their shiny new 3DS.

Although the Bust-A-Move series has been around for seventeen years, I had never played a single game until yesterday, with the release of Bust-A-Move Universe. After spending some quality time with the game I walked away extremely underwhelmed, and was left sorely missing a game I had wasted plenty of time with back in the day when I should've been studying: Snood.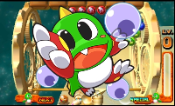 Since Bust-A-move Universe is a 3DS launch title, I'll tackle the graphics first. As one may expect, the 3D elements featured are merely a gimmick and they add little, if any, entertainment value. In essence, don't pick up this game for its 3D effects.
The game's objective is simple: make on-screen bubbles disappear by joining together three or more of the same color. Player's take aim with a launcher that shows the projected path of a specific bubble, which can be shot directly at a specific target or bounced off the walls to reach an otherwise inaccessible location. After a certain number of bubbles have been shot, the ceiling above the bubble formation will drop. This will continue to happen until players either clear all of the bubbles, or lose by having the bubble formation fall below the bottom of the screen.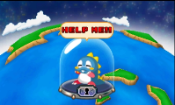 Bust-A-Move Universe is split into two modes, Puzzle and Challenge. As implied by the title, each of the puzzle levels take place on its own planet and is split into several waves, concluded by a boss battle. During each level players will collect keys trapped within bubbles, which are used at the end of a level to free a trapped character.
While the game is moderately enjoyable, it never becomes particularly challenging, even later on. Anyone who has ever played a similar puzzle game will undoubtedly be affected by the lack of challenge, and without any difficulty settings, the gameplay quickly wears thin.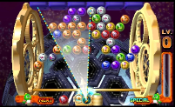 Challenge Mode does little to rectify this drawback and is nothing more than a thrown together set of tasks that can barely be considered challenges. The mode is split into three sections, 100-second bubbles, 300-second bubbles, and nonstop bubbles. Though each challenge comes with three difficulty settings (easy, normal, hard) they are basically identical, with the one difference being the amount of time allotted to achieve a high score.
Not only is the section devoid of anything I would consider a puzzle challenge (funky shaped puzzles, specific limitations, no aiming assistance) it isn't even clear whether or not a player has completed a level. After time ran out in several instances I was given two options, Retry or Quit. Was there some undefined goal I hadn't achieved? Nope. After the limit is up, or players quit in the case of nonstop bubbles, players are given a score which they can only observe by exiting the Challenge Mode Menu, exiting the Mode Selection Menu, selecting Rankings on the main menu, and then scrolling all the way through the main level rankings until finally reaching the scores for the challenge puzzles.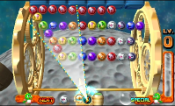 Though Bust-A-Move Universe isn't a terribly bad game, there are plenty of presentation and gameplay issues that hinder the experience.
As stated before I'm used to playing these types of puzzles on the computer, therefore my usual aiming method is with a mouse. As a result, the D-Pad and button combination used to control Bust-A-Move felt a bit unnatural, and even after adapting to this method, things felt much stiffer than I was used to. When players use the D-Pad to move the launcher left or right, it quickly moves in the pressed direction. So in order to gently tweak their desired aim, players will have to tap the L or R button accordingly. This proved extremely slow, and while it isn't a big complaint when dealing with regular levels, it becomes a problem when playing those with time constraints.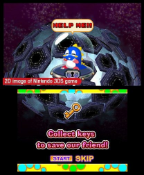 Although it took a while to become acquainted with the clunky aiming, I never got over the strict adhesion of the bubbles themselves. Once again, my years of playing Snood got in the way and I expected the bubbles in Bust-A-Move Universe to move just as fluidly, gliding past adjacent bubbles to the intended final destination. For a game based on clearing a board fast and efficiently, I was disheartened to realize that I couldn't perform the seemingly necessary task of sliding bubbles into tight diagonal areas. Every time I tried to make the move, the bubble would simply stick to the next closest bubble. The lack of this ability alone took out an entire facet of depth, strategy, and, most disappointingly, challenge from the game. Honestly, who couldn't succeed at a game based on matching bubbles when they have a launcher that distinctly aims the bubbles and there are no difficult shots to make?
While these design issues are more annoying than bad, the presentation issues are simply awful. As I've already gone over, the lack of feedback in Challenge Mode is incredibly confusing, and the fact that a player has to go through a lengthy menu navigation process just to get their scores is absolutely ridiculous. There is simply no justification why a player's score and their ranking on the leaderboards shouldn't be shown after completing one of the Challenge Levels.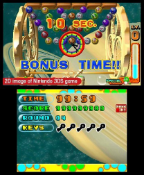 Even worse are the awards that go completely unnoticed, and are therefore pointless to anyone who doesn't go searching for them. In fact, I hadn't even noticed there were awards until I saw the listing in the same menu selection area as the rankings. Notifications that I had earned an award would have actually given purpose to them and might have even made the game a bit more enticing.
For such a long running series, I expected more from Bust-a-Move Universe, but there is nothing special or interesting about it. Had the presentation not been so sloppy and the gameplay a bit more varied and challenging, it would have been a pretty good first puzzle title for the 3DS. I suppose if you're really a die-hard fan of the series or are in desperate need of a puzzle title for your 3DS, you'll be satisfied until something better comes out. On the other hand, if you aren't and own a computer (which you probably do if you're reading this), rather than dropping full price on this, go buy Snood for a fraction of the price.