Prinny: Can I Really Be the Hero? Review
RECOMMENDATION:

Fans of Mega Man and Super Ghouls 'n Ghosts will undoubtedly enjoy the title, even though the challenge level is even higher. Disgaea fans will likely also enjoy the game for the characters and humor.

Fans of Disgaea are already quite familiar with the Penguin-like creatures known as prinnies. Dood is their signature word and they have a tendency to explode, due to the highly unstable nature of the souls which have created them. Prinny is an upbeat character that most players can't avoid falling in love with, and as such, it makes sense that NIS decided to take the character and spin-off an original title based solely around them.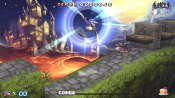 Prinny: Can I Really Be the Hero? has a fairly ridiculous plot. Demon Lord Etna's Sea of Gehanna Pudding has been eaten and she tasks the prinnies of the kingdom, all 1,000, to create the Ultra Dessert for her within 10 hours. In order to keep the prinnies from exploding, she dons the crew with a single red scarf that will help keep each prinny alive.
Rather than the typical tactical RPG gameplay featured in the Disgaea series, players will now take Prinny on a side-scrolling adventure that bears a striking resemblance to Super Ghouls 'n Ghosts. Prinny has the ability to run and jump, as well as ground pound and air attack.
Each level in the game is structured similarly to a Mega Man level. There are some mid-level checkpoints with an intense boss battle to finish out the stage. The general design of each level also feels similar to a Mega Man game with a variety of challenging platforming sections and areas where a strategy must be formed in order to attack impending enemies.
As mentioned earlier, Prinny and Super Ghouls 'n Ghosts are similar titles, mostly due to the design of the game and the control of the character. Players are able to run, jump, and attack enemies with swords. Unlike most modern games, Prinny like Super Ghouls 'n Ghosts, offers no such control. When players jump, the path they will follow is predestined, which can be quite awkward for players more accustomed to the newer style of control. Furthermore, control in general feels a little stiff, but given the level design and play style of the game, it doesn't feel out of place.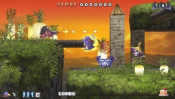 What truly sets Prinny apart from other similar games featured in generations past is the life system. In the evil mode, players are given a single hit and they die, forcing them to go all the way back to the last checkpoint. In the normal mode, players can sustain three hits before death, offering a much more even-handed and enjoyable experience. Players are also given 1,000 lives, in this case prinnies, which need to last players the entire game.
While 1,000 lives sounds like a lot, given the gameplay and challenge of Prinny, that life tally doesn't amount to much. Boss fights alone will cause players to rip right through a hefty number of lives. Thankfully, the game only features ten levels, so players have an allotment of 100 lives for each level in the game.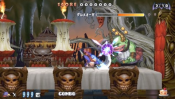 Though Prinny is extremely challenging and the controls are a bit stiff, the character and gameplay provide for an enjoyable and approachable experience, especially on the game's easier setting. I found myself constantly pushing to make it to the next checkpoint or to figure out the strategy necessary to beat the boss fight that I was embroiled in.
Players looking for a game with character, challenge, and quick, simple, but unique gameplay needn't look further than Prinny. Fans of old school titles will likely enjoy the challenge and super fans of Disgaea will also appreciate Prinny's adventure thanks to the characters and dialog.