Games on YouTube: SongeLeReveur
When musicianship and love of gaming unite.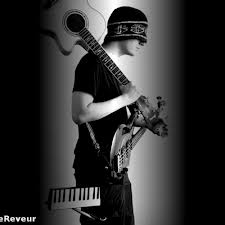 Well, it seems like you guys enjoyed my last find while YouTube diving, so here's something else I've found; an artist who calls himself SongeLeReveur. He brings a unique perspective to a lot of video game music, and covers a lot of songs in ways I've never heard before. Since Final Fantasy music is awesome, let's start with some Uematsu love.
Friendly reminder: Audio quality on YouTube videos is directly related to video quality, so if you want to hear these pieces at their best, remember to turn the resolution up to at least 480 by clicking on the little gear icon in the bottom right of the player.
Uematsu has been quite open about his prog rock influences, so it's only fitting a cover of his music includes some artistic improvisation. You may not recognize it right off the bat, but this is a very cool interpretation of the battle theme for Final Fantasy VII, which I personally didn't get bored with even after playing the entire game. SongeLeReveur cleverly worked in some brief call outs to other music from the game as well, so keep an open ear, and make sure to listen through to the end, the finale is pretty clever as well. Also, before you ask, yes, he's playing every one of these instruments.
Keeping with the Square Enix (or Squaresoft at the time) theme, here's a piece of music that a lot of people were blown away by the first time they experienced it on Sony's first console. I distinctly remember sitting on the map screen just listening to it loop over and over.
As for my critique, mandolins don't get nearly enough love in video game music, and the french horn is a fantastic choice to pick up the melody. I'm revealing my ignorance here by not knowing or being able to find the proper name for it, but the thumb harp that creates the music box like sound is a great accent, even if its appearance is brief.
The real star of the show is the transformation at 1:15, taking a mellow, pensive theme and giving it an energetic Latin flair. Again, what's the point of covering music if you can't add your own flavor to it? Great work again.
This is a totally selfish inclusion on my part. The main theme of Morrowind has long been one of my favorite pieces of video game music, and this cover is quite respectable. While the dramatic swell lacks some of the punch of the original piece, it's still loaded with potential energy. Swapping strings for a wind instrument is no easy task, and SongeLeReveur manages to make it sound as if the song was written for the instruments he chose.
Yes, I recently poked a little bit of fun at this theme in my Backloggers Soundtrack Special, but at the end of the day, it's a great little ditty that I'm glad to see has become a recurring part of Zelda's musical cannon. Naturally, the use of the ocarina is pretty predictable, but other instruments quickly appear that add variety to the piece, keeping it from being too mundane. It's brief, but I still like it.
I really like this, not because it does anything too clever, but because it exists at all! I can't remember the last time I stumbled upon someone covering a piece from Battletoads & Double Dragon. Clever harmonies on the dueling electric guitars make it memorable, and the song has exactly the kind of high energy you'd expect from a game about punching the crap out of aliens. Good stuff.
I don't even know where to begin with this one. Mega Man covers are a dime a dozen on YouTube (SongeLeReveur himself has several, including the ubiquitous Dr Wily theme from Mega Man 2) but Charge Man's theme, which is one of my favorites, is usually overlooked. Covering that alone would have gotten my attention, but an electric sitar? Yes, yes a thousand times, yes! To be fair, it is just a modified electric guitar, but who on earth hears this theme in its NES chip tune state and thinks of a sitar? Amazingly creative.
Finally, some Sonic the Hedgehog, and FM Synth this ain't! While Sega's 16 bit console was fueled by boisterous, aggressive tones fitting its extreme agenda, SongeLeReveur's answer is muted, pensive, and simple. Covers like this are all about tone. It's a subtle, fickle thing that's hard to nail down, but some musicians get it, and some don't. Finding it means discovering the difference between being a garage band covering classic rock tunes, and a band like ZZ Top. It needs to sound effortless and breezy, and that's exactly how this song turned out.
SongeLeReveur has many more videos than this on his YouTube channel. If you enjoyed this, make sure to give him the credit, and give him some thumbs up or a subscription if you like. He also has a website that you can visit, which is available on his channel. I actually left out some of his best work, such as a jazz rendition of some music from a Kirby game, An amazing rendition of the Cosmo Canyon theme from Final Fantasy VII, and some excellent Pokemon covers as my way of encouraging you to do so. So if you like him, check out his stuff!