Nerds Without Pants Episode 133: The Greatest Show on Earth
Or: The Brotherhood of the Vanishing Pants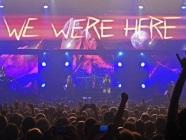 The Nerds Without Pants are back with an episode full of quick time events, animated blood and gore, and tales of medical woe. We won't be back for a little bit in our standard format, but fear not, as Julian has a special in the works to tide you lovely people over until we're back. Enjoy!
00:00-08:48: Intro
09:03-00:53:38: STAGE SELECT- What is your video game spirit animal?
00:54:36-1:58:13: CONSUMPTION JUNCTION- Path of Exile, Warhammer 40K: Inquisition: Martyr, Hearthstone, Blizzard aesthetic, "the meta", the end of Invincible, Ready Player One, Julian's Nightwish emergency
1:58:50-2:35:07: PAK WATCH- God of War (2005)
2:35:22-2:38:44 Outro
NEXT EPISODE
STAGE SELECT: Pick entrance music for the hosts if they were in the WWE (preferably video game songs)
PAK WATCH: Final Fight (1989)
SUBMIT YOUR COMMENTS FOR STAGE SELECT AND/OR PAK WATCH BY 7:30 CENTRAL ON MAY 17!
FEATURED MUSIC
Nightwish- The Greatest Show on Earth
Nightwish- The Poem and the Pendulum
Nightwish- Wish I had an Angel
Nightwish- The Eyes of Sharbat Gula
Battle Beast- God of War