Nerds Without Pants Episode 135: Kept You Waiting, Huh?
Initiating NWP v3.0 (beta version)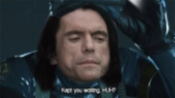 After a longer than intended hiatus, the Nerds Without Pants are BACK! A lot has happened since the last episode of the show two months ago. New jobs, new adventures, and the announcement of the beta phase for NWP version 3.0. Enough with the preamble; let's get to it!
We kick things off with why we were gone, some minor E3 talk (we know it's way late, so we don't dwell on it), and Patrick's favorite arcade spot. Julian finished God of War and is amazed that he liked Detroit: Become Human more. On top of that, there's also talk of Yakuza 0, Patrick's new endeavors, the return of Patrick's Poetry Corner, and more!
We're happy to be back, and we appreciate your love and patience with us during our hiatus and this upcoming transitional phase. We look forward to getting back to full power and being better than ever; just give us time! We love you all.
FEATURED MUSIC
Backstreet Boys- Backstreet's Back
The Ultimate Showdown of Ultimate Destiny
Slayers Next- No One Shall Get in My Way
Mortal Kombat theme (remix)