Demon's Souls Travel Log: Reality Check
Wherein I get a rude awakening.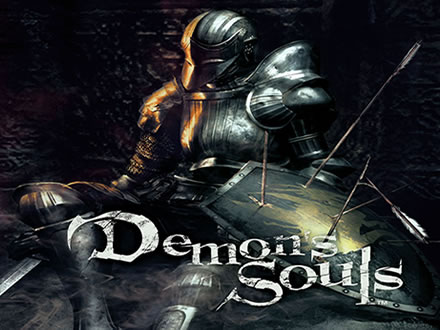 Previously in the Travel Log: I went through the palace of Boletaria with confidence and defeated Phalanx, the first boss. Read about my triumph here.
Man, I can't believe I fell for all that talk about Demon's Souls being a tough game. I've already made Phalanx call me daddy, and so far, I've only died twice, and one of those was a technicality. I didn't know you could die from falling off ledges. Really, I didn't. Stop looking at me like that.
Yeah, this game isn't the spirit-crushing experience I was led to believe. At this rate, I'm going to make quick work of Demon's Souls. And then, why I might just buy Dark Souls and show it who's boss. I am all that is man! But back to the game. I don't have a ton of time to play tonight, so I'm just going to scout out the next area, get some souls, and call it a night. I started back right where I killed Phalanx, so I think I'll head back to the Nexus and see if I can use all of these souls on anything cool. I tried upgrading my shield last time, but I wasn't strong enough to use it properly, something that I wasn't told before I bought it. That's not a challenge; that's punitive.
Oh, a cut-scene? I guess this game has some story, after all. I have to go find The Monumental, and I was instructed to go up. Only, there's a lot of stuff that's "up". There's a platform that extends out towards this huge statue. Surely that's The Monumental? But no, nothing happens. Okay, I guess I'll go up higher.
Well, this can't be right. I'm in some sort of leaderboards room. There are a bunch of stones that represent players that are at the top of the game, like most souls collected, most phantoms killed, etc. One guy on here has logged over 400 hours into this game. That's more time than I've spent on Final Fantasy XI in the past 7 years! But I digress; I need to find The Monumental.
Hmm…there are notes telling me to go left. This is helpful. I really am lost, and this is the only guidance I have. I'm passing a row of brown vases or something. Oh, that's The Monumental? She blends into the environment so well, I don't think I ever would have found her without the messages left by other players. More and more, I'm loving that feature of the game. So inventive, too!
So now I have an idea of why I'm here and what I have to do, more or less. It's your typical RPG story trope: find the 6 things you need to find to save the world. Yadda, yadda, yadda. Story is not why people play this game. Apparently, I can talk to a woman on the first floor and upgrade my stats, so I'm definitely doing that. I have a ton of souls, so I should be able to upgrade quite a bit.
Or…not. I had enough souls to raise two stats. I raised my endurance and intelligence by a single point each before running out of souls. This is going to be…interesting. I guess it's time to press forward. I can at least warp back to the area where I killed Phalanx, so yay for shortcuts.
Moving ahead is no problem. I'm fighting some more of the shield carrying blobs that protected the boss, but they go down fast if you hit them in the back. It's really dark in here, but I see a light up ahead. I really like the lighting in this game. There's a stark difference between being in a dank cellar and being outside. There's a bridge with some archers coming up and OHMYGODTHEDRAGONISBACK!
Dammit, is this guy going to stalk me through this entire game? It's the same as before, though; wait for him to fly away and then run like a madman to the next safe area. In this case, that would be an archway. This bridge is kind of like the Great Wall of China, and it seems to stretch as far. I could try my luck pressing forward, but I found a stairway that leads down into another area. This game is all about observation. Piece of cake.
It's dark in here, and there're plenty of dark corners where enemies can ambush me, but I keep my shield up and even when I don't see them attack, I defend from the first hit. No problem, man! Let me just keep going…wait. There are two wolves coming straight for me, fast. I have a split second to act. Sword, or magic? Sword, or magic? Sword, I think. It's only two of them, after all. Slash, slash, what the hell?! Two more are coming down the hall, and I'm already taking damage! Fire magic time! But this spell takes so long to cast. Every time I try, a wolf hits me and I get interrupted. Aaand, I'm dead. I've never been mauled by wolves in real life, but I imagine it would feel just like that.
Fine, I'll be ready for them next time. I have a ring that keeps my HP from getting cut as drastically as it normally would when you get killed, so I have more health to work with than I thought. I get back to the wolves in half the time and take them out, but just barely. I heal up and keep going, and eventually start going up again. I'm at another archway on the bridge, and that dragon reminds me he exists by turning a ton of undead soldiers into ash. Looks like it's make it or break it time. Once again, just wait for him to fly away and then run!
Now that I'm actually running, this bridge seems way longer than it did before. Oh crap, I can hear the dragon behind me! He's going to roast my chestnuts if I don't make it to the next shelter. Dammit, it's guarded by archers! And, is that…? Oh, bloody hell. It's one of those heavy armor warriors. I have trouble with them one on one, but teamed up with archers and a very angry dragon behind me? I don't stand a chance! When I try and counter the heavy, I get hit with crossbow bolts. If I back up, I'm dead.
I'm down again! And I have to go to bed. I've played for an hour, and I don't have a thing to show for it. Maybe this game really is as tough as they say it is. Maybe last time was beginner's luck. I go to bed angry, but I'll be back, and with a new strategy!
Next: Pick yourself up, dust yourself off, start all over again!