Press Release - EXTRA! EXTRA! CRAZED PENGUIN GOES ON RAMPAGE WITH CROSSFIRE PISTOL
Launch of First Integrated Remote Gun for Nintendo "Wii" Unleashes Mayhem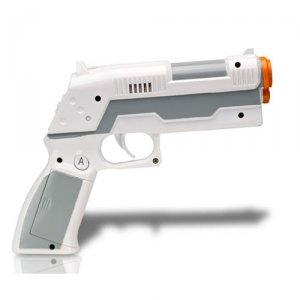 Fremont, Calif., (September, 2009) - Penguin United has announced the launch of the CrossFire Remote Pistol for Nintendo "Wii", the first and only available gun for Wii that has the remote already integrated into the gun's design.
Intead of designing just another plastic shell for housing the Wii remote, Penguin has actually designed the Crossfire with the remote already built in. Accordingly, the A and B buttons and D-Pad have been repositioned for easy access and functionality. The Crossfire even works as a regular Wii remote for use with other, non-shooting games.
Product Highlights:
- The first integrated pistol remote for Wii games
- Works as a fully functional remote with other, non-shooting games
- Works with Wii shooting games including House of the Dead, Conduit, Resident Evil series, and others
- Designed to create a true gun experience
- A-Button repositioned for thumb access while holding pistol
- B-Button repositioned for trigger finger access
- D-Pad repositioned for immediate thumb access
- Intuitive button layout provides easy access to all essential controls
- Conforms to both left and right handed gamers
- Enhanced vibration function
- Built-in speakers for improved audio experience
- SRP: $39.99
"The Crossfire takes shooting games to a new level," stated Richard Huang, President of Penguin United. "By integrating the remote into the design, as well as repositioning the buttons, we've created a much more realistic experience. The CrossFire offers all the benefits of a Wii remote as well as providing a true gun experience."
*The Crossfire will be available immediately at www.buy.com and will soon be available direct from Penguin at www.penguinunited.com.

#Pistol remote