Namco Bandai Profits Up 48% Last Quarter
The company had strong sales in Japan to make up for poor international numbers.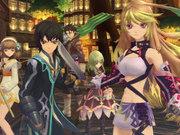 Namco Bandai has announced that its quarterly profits have increased by 48%. This is due to a 17% increase in Japan and despite a 27% decrease in the US and a 5% decrease in Europe. The period in question is from the beginning of October to the end of December 2011.
The company's most successful title was Tales of Xillia, which sold 760,000 copies, and Mobile Suit Gundam Extreme VS, which sold 550,000. An 18% increase in the company's toys and hobbies business also helped. The end year sales are expected to be up 12% year-on-year at 5.6 billion dollars in profit.