New Fable XBLA Game Announced
Fable Heroes is set to be a companion to the upcoming Kinect game.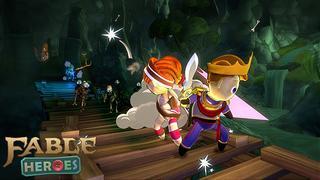 It's been some time since we've heard from the Fable franchise. Little has been shown of Fable: The Journey since its debut at E3 last summer, and Lionhead Studios has yet to talk about a possible fourth entry in the action RPG series. That's not to say that nothing new is coming out of Albion, however; we've learned that a new Fable spinoff is in the works.
Titled Fable Heroes, this XBLA game is a dedicated multiplayer hack 'n slash affair. Up to four players can battle alongside each other in the mainly side-scrolling game. It seems as if the characters come from the previous three games, though Fable Heroes sports a cartoony, almost marionette look. It recalls the Flash game on the Fable 2 website that led up to the release of that game.
As players proceed through the main adventure and play the mini games, coins will be earned. These can be cashed in for loot in the game, or transferred into the upcoming Fable: The Journey. The unlocks work both ways as well, with players of The Journey earning rewards that can be used in Heroes.
As of now, no release date or price point has been announced. We will keep you updated as more information becomes available.