Japanese Release of Infamous to Include God of War III Demo
Looks like Japanese players will be experiencing the God of War III demo before everyone else.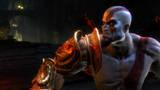 The first print run of the Japanese version of Infamous will contain a code to download the demo for God of War III, according to Andriasang.
Infamous, set for release on November 5, will be the earliest the public will get to try out Sony's high-profile 2010 game as the God of War III demo is going to be bundled everywhere else in the God of War Collection, which is scheduled for a November 10 North American release.
The demo is based on the E3 build that many people waited in line to try out.