Dragon Quest VI Playable at Tokyo Game Show
The latest DS remake of the popular RPG series is making its playable debut this week.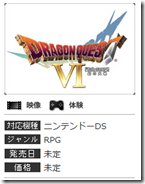 The DS remake of Dragon Quest VI: Realms of Reverie is going to be playable for the first time at Tokyo Game Show this week.
Originally announced back in 2007, DQVI is the third and final game in the Zenithia trilogy, which contains the two previous DS remakes, Dragon Quest IV and V. Like the previous games, the remake is being handled by ArtePiazza.
The Super Famicom version of Dragon Quest VI hit Japan in 1995, and it was never released anywhere else. While the game's appearance hasn't reconfirmed the North American and European releases, it is expected that we'll hear more about a solid Japanese release date soon, and a North American and European one sometime after that.