God of War III Ultimate Edition Announced
An exclusive art book, and soundtrack are only some of the items contained within.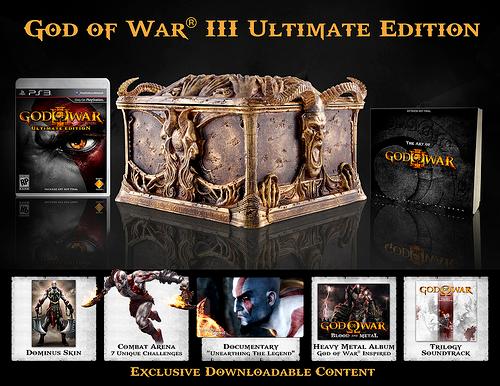 God of War fans may be excited to know that today Sony officially announced the upcoming release of the God of War III Ultimate Edition.
The physical contents of the God of War III Ultimate Edition will include a retail copy of the game and a Limited-Edition God of War III Art Book containing both original artwork and interviews, all of which is encased in a sculpted replica of Pandora's Box.
Also included are several digital items such as an exclusive God of War 3 Combat Arena containing several challenges, the premium Kratos skin Dominum, a full-length movie documenting the process of creating God of War, a God of War Trilogy soundtrack, and the mp3 download God of War: Blood and Metal which is a heavy metal title inspired by the soundtrack for God of War.
Within in the announcement, Sony also stated that those who pre-order God of War III at select retailers will receive a voucher to download available to play at this year's E3. Additional pre-order bonuses are being offered by Amazon, GameCrazy and GameStop, in the form of exclusive Kratos skins, which can be viewed below.
While the official Playstation listing did not mention a price for the God of War III Collector's Edition, Gamestop has it listed for $99.99 set to release on March 2 of 2010.