Ghost Trick: Phantom Detective Preview
I ain't afraid of no ghosts.
Ever feel like there's someone out there, watching out for you, and saving you at the last minute from certain death? Perhaps it was Sissel, the protagonist of Capcom's Ghost Trick. Play as Sissel as he arrives at the scene of an innocent person's death four minutes beforehand and uses his powers to manipulate surrounding objects to change the person's fate. The game also incorporates logic puzzles to the mystery.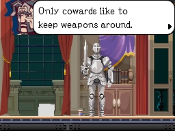 However, Sissel is more than just a guardian of the night. He's a ghost who protects the innocent, but he's also entirely unaware of how he happened to die. As he saves people, his own mystery begins to unravel.
Directed by Shu Takumi, the original creator of Ace Attorney series, Ghost Trick is the working title for DS, and has no set release date, ESRB rating, or price.