Monster Hunter Tri Preview
After a big launch in Japan in August, more information about the Western release of Monster Hunter Tri is surfacing.
Monster Hunter Tri for Wii is going to arrive in North America and Europe this coming spring. Boasting new worlds, new weapons, and new options, this Monster Hunter game is set to be monstrous.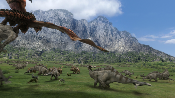 Expanding on the dry land realm that previous hunters had free roam of, the game also includes a whole underwater world. A new weapon class, called SlashAxe, will also be available, and torches will become more than lighting arrangements when they will be used as weapons. There are also new creatures, quests, armor sets, and other items that will be introduced into Monster Hunter Tri.
Your character in Tri is from the village of Moga, a busting center with a Blacksmith (great for forging weapons), shop, and farm. The quests begin when earthquakes begin to plague and destroy Moga, and you must figure out how to make them stop so that life can resume its peaceful nature.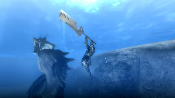 In previous games in the series, completion of quests resulted in rewards of both money and items. This remains in Tri, but the added incentive is that quests help restore the village and the temperament of those who live there.
Tri boasts multiplayer that is both local and online. Certain quests allow for a second hunter to join in on split-screen quests, but up to four hunters can join together via Wi-Fi. In addition, the hunter is always accompanied by Cha-Cha, an AI hunting partner.