Resident Evil: Operation Raccoon City Hands On Preview
Resident Evil goes in a new direction.
Resident Evil: Operation Raccoon City is definitely not your typical Resident Evil game. Raccoon City takes a bold step away from the traditional and modern styles of Resident Evil and goes a whole new route, basing its gameplay on intense action and co-op. The result is actually a lot better than one would imagine.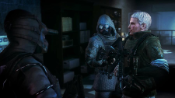 The game is based around the first three Resident Evil games; however, this time you're playing as members of USS. These are the bad guys, and they're out to put a stop to the endeavors of characters like Leon Kennedy and Claire Redfield. However, while they are indeed the prime targets, you can expect to shoot a lot of zombies while you're at it.
At the beginning of the demo, players were asked to choose one of four characters, each having different abilities, specialties, and weapon load outs. When you begin the game, you will realize that the game plays a lot more similarly to something like Gears of War or Uncharted than Resident Evil. One would think this is a bad thing, but it's not. The gameplay is solid and smooth for the most part, with my only gripes being in the cover department. In this game, cover is handled with the right stick by clicking R3 rather than a button input, which threw me off and wasn't as responsive as I would have liked.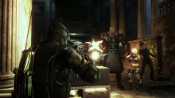 Overall, the game played like a shooter. You and your crew fight through waves of zombies and Umbrella soldiers. On occasion, you will run into some bigger threats, such as Hunters and even Tyrant. The multiplayer dynamic works fine and I'm guessing this is going to end up being the definitive way to play. Enemies can easily overwhelm you in Raccoon City and the partners help greatly to lighten the load. By the end of the demo, I was pleased. I didn't expect to have such a fun experience with a game that was so different from its predicessors. I believe this game definitely has a chance of holding its own in the growing realm of Zombie survival games.
Resident Evil: Operation Raccoon City is slated to be released later this year.