Resident Evil: Revelations Hands On Preview
This latest entry in the series hopes to bring back elements from its roots.
Resident Evil Revelations is shaping up to be on of the prime reasons to own a Nintendo 3DS. Utilizing the gameplay made popular by Resident Evil 4 along with a few old school elements, the game seems to take the best of what the series has to offer and put it into one small package. The result so far, is pretty much that.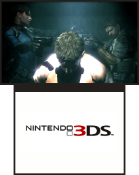 Set between Resident Evil 4 and Resident Evil 5, Revelations follows the further adventures of Jill Valentine and Chris Redfield. The demo follows Jill in particular, and opened to her being stranded in a mansion of sorts. As soon as you take control of her, you realize that it plays very similarly to the console counterparts. Differences are in the aiming which is now shown in the first person, being able to move while you shoot, and various touch screen additions. Things like the map, items, and weapons are shown on the touch screen for easy access. Its a welcome addition. Generally the gameplay is great. Everything that made the console versions fun to play has been transfered nicely to the handheld, with one exception: melee attacks. A rep assured me that there would be melee attacks, and knifing in the final build of the game, but it was a bit strange that it wasn't included in this build. There were a few new elements as well, such as a scanner item that allows the player to scan the room and find hidden items. There were a few puzzles in the demo as well which make use of the touch screen.
The level that I played in the demo was complimented by a creepy environment that actually got a few jumps out of me. Hopefully in the final version there are more scares to be had. It would definitely help, since the graphics and are phenomenal. This game looks almost identical to Resident Evil 5, which is a feat on its own. The 3D adds a great amount of depth as well, and never got in the way of the gameplay.
Resident Evil Revelations is definitely one looking to be one of the better titles on the horizon for the Nintendo 3DS. Theres going to be a demo included with the game, Resident Evil: Mercenaries 3D, so go there if you want a demo of the game. Resident Evil Revelations is due out sometime in 2012.