Dead Rising 2 Preview
Dead Rising 2 is going to center around a zombie-focused reality show in both single-player and the new multiplayer.
In Capcom's upcoming Dead Rising 2, players take control of Chuck Greene as he tries to rescue his daughter in Las Vegas-inspired Fortune City. The sequel to the popular 2006 release features more varied locations, a bunch of new weapons, and a brand new multiplayer mode.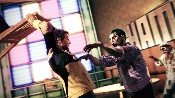 The weapons are for the most part similar to the weapons found in the Willamette Mall in the original game. Dead Rising 2 adds some casino-inspired items, such as roulette wheels and croupier sticks, and also brings about some crazy combinations, such as the paddle-saw, which is made up of a canoe paddle with a chain-saw attached to each side, and a shotgun with a pitchfork attached to it that allows you to stab enemies and then blow them away.
The most recently announced addition is the fictional reality show Terror is Reality. In the single-player mode, Chuck finds himself competing in the game, which is a gladiatorial-esque competition where contestants must kill the most zombies.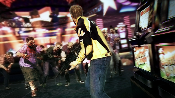 The multiplayer mode, which is for up to four players online, has players competing against friends in a variety of modes and fashions. Promising the same action and humor as the single-player part, you can also prevent other players from killing zombies, which adds a bit of strategy to the zombie-slaughtering proceedings.
Dead Rising 2 is being developed by Blue Castle Studios under the supervision of Capcom and key members from the original Dead Rising team. Keiji Inafune, Capcom's global head of research and development and a big part of the Mega Man and Onimusha series, is serving as the producer.