Lord of the Rings: War in the North Preview
Snowblind's journey into Middle Earth is a bloody one indeed.
The Lord of the Rings: War in the North isn't your average LOTR adaptation. Even with a story that focuses much of its attention on war and the horrors that lie within that beast, the movies and books have always been rather accessible to even the youngest members of the family. That's about to change as it's best the little ones sit out what is shaping up to be the bloodiest vision of Middle Earth yet.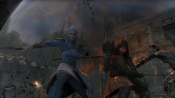 War in the North is an action oriented RPG with a focus on co-op play. 1-3 players can take control of a unique fellowship and their battles in the northern realms of the land as detailed through many of Tolkien's writings and appendices that accompany the Lord of the Rings. While most are at least vaguely familiar with Frodo's journey to destroy the ring, most will be unfamiliar with the trials and tribulations that harried our heroes in the north.
While a large chunk of the game takes place in the north, your band of adventures will also trek through many locales from the books and movies such as the transient filled town of Bree, the dark an ominous forests of Mirkwood and the Elven city of Rivendell.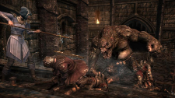 It goes without saying that you'll be battling your fair share of orcs and goblins. Those familiar with Middle Earth will know exactly what kinds of enemies they are likely to face, but what they may not be prepared for is how bloody the combat is. Limbs can be lopped off with a well placed swing of the axe and blood of all sorts of colors will spew forth in a sight not previously detailed in a LOTR game. The developers at Snowblind Studios noted that it wasn't their intention to make an M rated game for the sake of it – they wanted to deliver an experience that was true to Tolkien's writings, better defining the true horrors of war.
We'll soon find out it Snowblind Studios is successful in telling a story in Tolkien's world that doesn't directly involve the ring. Lord of the Rings: War in the North will be released on the PlayStation 3, Xbox 360 and PC on November 1, 2011. Stay tuned to PixlBit for our review to follow shortly.