Saints Row: The Third Preview
People are strange in Saints Row: The Third.
There isn't anything quite like Saints Row: The Third. Sure, it may seem like a blatant rip-off of the hugely successful Grand Theft Auto franchise, but there is so much more to Saints Row than the open world and warring gangs. Simply put, there is something wrong with Saints Row: The Third, and I mean that in the best way possible.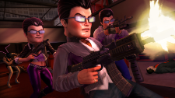 Like in the first two games, you head up the Saints, a once small time gang from the Saints Row district of Stilwater that has hit the big time – and I mean big. After merging with the Ultor Corporation from the second game, the Saints now find themselves as household names, with their own branded merchandise and everything. This steady descent into the absurd is what really helps to separate Saints Row from GTA – while the GTA series has matured with every title, Saints Row has become loonier.
While the first two games were set in the Detroit/Chicago-based city of Stilwater, The Third switches it up and moves to Steelport, an odd hybrid of New York City and Pittsburg. Steelport is a massive city and the change of locale will help to inject some new blood into the franchise.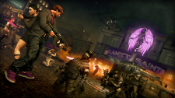 Along with the new territory come new rival gangs to fight over it with. In addition to the Saints, there are also the Luchadores, muscle-bound ex-Mexican wrestlers; the Morning Star, European arms dealers that also dabble in the sex trade; and the Deckers, a gang of young punks with access to bleeding edge technology.
One of the bigger, and likely more controversial additions to the franchise is the inclusion of Whored Mode, a horde mode clone that pits you and a friend against wave after wave of…well…whores. Yup, you read that right, and if that wasn't enough you'll also be equipped with the new "Sex Toy Bat" which isn't so much a bat, but an exaggerated reproduction of the male anatomy that will splatter enemies and civilians alike into a bloody pulp with a single blow.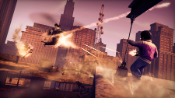 You really can't make this stuff up.
If going over the top, and I mean really going over the top, is your thing, then Saints Row: The Third should almost certainly be on your watch list this holiday season. Be sure to stay tuned to PixlBit for our review as Saints Row: The Third releases November 15, 2011 on the PlayStation 3, Xbox 360 and PC.