Resident Evil: Revelations Hands On Preview
Showing what the 3DS is capable of.
Resident Evil Revelations is shaping up to be one of the richest titles in the series. It's hard to believe that such a feature packed game could be found on a portable system. If the overall tone of the demo is any indicator, Revelations is on track to be just as important as any of the console entries in the series.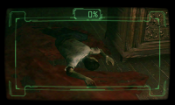 The demo begins by placing you in the shoes of Jill Valentine. She wakes up alone on a spooky abandoned ship. Shortly after realizing her predicament, you gain control of her. Jill finds herself in another dangerous situation, but in the grand tradition of Resident Evil, not all is as it seems.
Gameplay in Revelations is very much like in Resident Evil 4 or 5, but with some enhancements that were included in the Mercenaries 3D title from last year. You now have the ability to strafe while aiming, which is a long overdue addition to the series. Aiming can also be done now in first person, though third person still works just as it did in previous titles. Sub-weapons are now carried out with a single button rather than having to aim first. This means quicker access to weapons like the knife and grenade. There is also a button designated for healing, which makes recovery in tense situations much easier.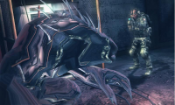 As I progressed through the demo, I was impressed by the fantastic graphical design. Playing this game in 3D looks phenomenal and the game has a very creepy tone and atmosphere. This is complimented perfectly by the haunting music and sound design. As you walk, you can hear the creeks and cracks of the ship as it moves. These sounds add to the tension, as there are times where you hear something, and you immediately check your back to make sure nothing is there. This is clearly a game designed for headphones.
Upon encountering my first enemy, I learned that there was a new mechanic implemented, which is a "quick step" or dodge that allows Jill to evade an attack by pressing a direction right before being struck. This mechanic was very handy in the fight, and with practice, helps minimize damage overall.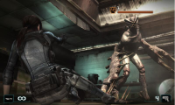 Capcom has stated that they hoped Revelations helps bring back Resident Evil to its horror roots, and the demo definitely proves this to be true. While you will definitely not be scared stiff, there are moments of increased tension, and even one jump scare which I sadly fell victim to multiple times.
Another new mechanic that was introduced by the end of the demo was the Genesis Gun; a scanner-like accessory that allows you to survey your surroundings for extra weapons, ammo and attachments. In addition to all those perks, you can scan the remains of enemies. Doing this builds up a percentage bar in the top corner of the screen. Upon gaining 100%, you gain a bonus in the form of weapon attachments and other augmentations. Sometimes there will even be some interesting dialogue to go along with your findings, adding to the story.
Upon finishing the demo, I realized that this title is truly a fully featured game. Along with the campaign which spans the adventures of Jill, Chris and other supporting characters, there are various multiplayer modes and unlockables. This game is easily one of the best looking 3DS titles, and stays faithful to the Resident Evil legacy. Only time will tell how the plot develops, but Resident Evil: Revelations looks to be a heavy hitter and one of the prime reasons to own a Nintendo 3DS.The game was originally priced higher than other 3DS games, but recently was dropped to the normal price of 39.99, which is a deal for all this content. Look forward to Resident Evil: Revelations on February 7th and if you can't wait, check the eShop for a free demo.