Batman: Arkham City Armored Edition Preview
Nintendo is getting a taste of the Bat.
Last year's amazing Arkham City is now making its way to the new Wii U in the form of the Armored Edition. Along with the console's new controller, a slew of new features are making its way into the port and Nintendo is hoping fans find that this new edition is the definitive edition.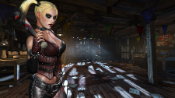 The game will be exactly like the PC, Xbox 360 and PlayStation 3 version except that the DLC released so far, including the Catwoman Pack, Nightwing Bundle Pack, Robin Bundle Pack, Challenge Map Pack, Arkham City Skins Pack, and Harley Quinn's Revenge Pack, will all be included. The game's story, penned by Paul Dini, and gameplay will all remain the same. However, because of the Wii U gamepad's touch screen and motion control functionality, new features will be included to take advantage of this new technology.
Batman's computer will now be with him at all times. A real-time map of Gotham will be available without having to leave the game and you can use it to instantly set waypoints and view current objectives. All of Batman's gadgets have been retooled. The new Sonar mode allows Batman to scan his surroundings for clues, as well as to plan strategies on taking down his upcoming and unsuspecting enemies. The touch screen will serve as an inventory screen for easy equipping and upgrading of batarangs and other gadgets. The screen will also be used for hacking locked areas and detonating explosive gel bombs.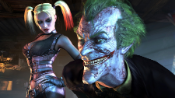 One of the biggest feature the controller yields is its motion control capabilities applied to the remote controlled batarangs. After throwing the gadget, players and move their Wii U gamepad and direct the batarang to its desired target. All new to this version is the Battle Armored Tech Mode or B.A.T. Mode. Both Batman and Catwoman can build up kinetic energy by engaging in combat. Once enough is earned, B.A.T. mode can be activated. Attacks will cause more damage and a heightened sense will give a better read out of where enemy locations are.
Batman: Arkham City is already an amazing game and is arguably the best Batman has to offer in video games. This Armored Edition adds new features in an attempt to diversify the gameplay but it's worth noting that many of these features can be changed to accommodate those who would prefer more traditional controls. At its best, the touch screen functionality seems like it would be useful as an inventory manager. Having the map constantly at your disposal is also useful. At its worse, this is still one of the best games from 2011 and more people will be able to experience it as it's one of the better titles that will be available at the Wii U's launch.
Batman: Arkham City Armored Edition will be released for the Wii U around the system's launch this Holiday Season. If you haven't played this game yet and plan to get the Wii U, this is the version to get.

#Batman: arkham city armored edition
#Wii u