Disney Epic Mickey 2: The Power of Two Preview
The mouse and rabbit unite! No,not that rabbit.
Epic Mickey 2: The Power of Two has something to prove. The first game created divided opinions, and the announcement of a sequel wasn't exactly highly anticipated. However, a sequel is just what Junction Point is creating, and the return of Mickey aims to appeal to a wider audience by fixing the issues of the first game while also bringing the world of Wasteland to the PlayStation 3 and Xbox 360 in addition to the Wii.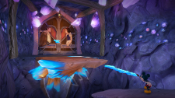 Yes, the Wasteland is back and once again there will be many characters from Disney's past featured in the game. Mickey will traverse worlds inspired by older Disney creations and the mousey mascot still wields the magical paint brush that allows him to paint in and erase objects. Oswald the Lucky Rabbit--who was part of the story in the first game-- will now be playable as a second player. With this addition, drop-in and drop-out co-op will be included. Instead of using a magic paint brush, Oswald sports a remote control that has the power of electricity.
One of the biggest differences between this new game and the first Epic Mickey is that all the characters are going to be voiced. This includes Oswald who has never had a voice before, being a character that comes from the earliest days of Disney. Furthermore, the game is being promoted as a musical and there will be various points in the game where characters will break out into song and players will be able to dictate the type of instrumentation will be used and orchestrate their own soundtrack.

The art design and graphics look good on the HD consoles and the controls work well with a traditional controller. However, the Wii version will again use the Wii remote and nunchuk combination while PS3 owners will have the choice to use either the DualShock 3 controller or the PlayStation Move. Most of the gameplay consists of three dimensional worlds but 2D levels will also be included. Seeing the game in action, it looks a lot like the original. This may be disappointing for those who thought this title would be different aesthetically as well as mechanically. From what's been shown so far, the game looks like more of the same.
If you were a fan of the original game, you will probably enjoy this title even more as it promises to have more features as well as more graphical polish on the HD consoles. However, those who didn't enjoy the first game will probably not have their minds changed by this title. Having said that, there is still time between now and its fall release window for more details to be revealed.

#Epic mickey 2: the power of two
#Junction point