Dust: An Elysian Tail Preview
Such an amazing gaming package that gamers will need a cigarette after experiencing it.
Imagine if you will, that video games never went into the third dimension. Instead of the polygon arms race that began in 1995, game artists and designers simply continued to hone the craft of 2D, hand-drawn sprites. What would the video games industry look like today? With that picture in your head, imagine that character-action games like Devil May Cry and God of War still existed, but were known for their gorgeous animation and parallax scrolling as much for their over-the-top combo systems and precise control schemes. Enter Dust: An Elysian Tale, a game that seems to come from this amazing alternate gaming reality.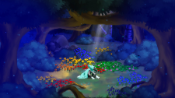 Much like last year's critical darling Bastion, Dust has one of those stories behind it that can warm the heart of even the most jaded of gamers. This game first came onto the scene as an entry in the 2009 Microsoft Dream.Build.Play design competition. This is a contest Microsoft has put on for a few years now that tasks budding designers to create a game for XNA with the winner receiving $40,000 and an XBLA contract. Humble Hearts, which in reality is programmer and animator Dean Dodril, won the contest that year and after that the game went dark.
Now Dust is back, and it's back in a big way. As part of the huge XBLA promotion Summer of Arcade, An Elysian Tale is set to take the world of digital downloads by storm.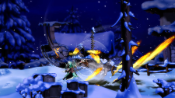 I mentioned Devil May Cry and God of War before, because the combat system in Dust is very reminiscent of those seminal action games. Your titular character wields the sentient blade Ahrah. Dust can chain attacks together with blinding speed, and launch his enemies up into the air for punishing juggles that would make Dante green with envy. Designed to be accessible but deep, Dust features a control layout that will enable less dexterous gamers to survive with button mashing. Take time to learn the finer points of the combat system, however, and combos in the 100s are just the tip of the iceberg.
If that didn't already sound like reason enough to start salivating, Dust sports a huge RPG influence, as well. You'll find NPCs to chat with, which will of course lead to all manner of questing. Dust will be aided by his Navi-like flying companion, Fidget to keep track of everything in his quest log. Did you say you want some crafting in your action/platformer? Humble Hearts has got you covered. How about character level progression? You betcha. There's tons of loot to find, as well. All of this gaming goodness is structured in a world not unlike the classic Metroid and portable Castlevania games, with areas of the vast map opening up as you gain new skills and gear.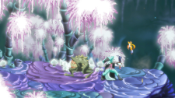 Dust: An Elysian tale is positively gorgeous to behold. The characters are huge, which is rare for hand-drawn sprites. It recalls the masterworks done by Vanillaware like Odin's Sphere and Muramasa, and this game easily stands with those highly regarded titles on a visual level. Dean Dodril has put a great deal of care and work into his animations, and everything in Dust moves with such fluidity that it would be easy to mistake Dust for an animated film. Oh, and spoiler alert: an animated film is in the works, too.
It can be easy for smaller games like Dust to get blown away in the E3 maelstrom, but we here at PixlBit wanted to be sure to bring this unique title to the attention of our wonderful readers. If An Elysian Tale wasn't on your radar before and you own an Xbox 360, it should definitely be on your radar now.