Strider Hands On Preview
"That Ninja from Marvel vs. Capcom" is back!
During the small period of time I had with the Strider demo, I died much more than I planned on. I was bombarded by lasers and attacks at a surprising speed. I quickly figured out that Strider was not an easy game. That should come as no surprise to those who played the original. What may garner your attention, however, is how the new gameplay mechanics help make Strider tremendously fun to play.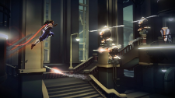 As I already mentioned, the game moves incredibly fast. Strider Hiryu maintains his nimble and speedy nature by moving throughout the world quickly and stylishly. Strider is equipped to scale walls and ceilings, making it much easier to navigate the world. In a nod to the Metroid series, powers and upgrades are scattered throughout the level that give you new abilities, like an improved slide maneuver, or robots that help you in combat. With these helpful tools I survived with much greater ease, but the challenge was still present. Sure, Strider is difficult and frustrating, but I appreciated the old school challenge.
Visually, the game is striking. The level that I played was in a snowy, mechanical building that was filled to the brim with traps and enemies. The lighting and visual effects were a treat to look at, and this was on current generation hardware. I can only speculate that the next-gen versions will be even more impressive.
Strider will be released sometime in 2014 on PlayStation 3, PlayStation 4, Xbox 360, and Xbox One.