LittleBigPlanet Preview
Sackboy will sadly journey through new levels all by his lonesome this time around.
LittleBigPlanet for PSP is a stripped-down portable version of last year's PlayStation 3 release. While it still features the physics-based platforming, level creation, and cute aesthetic, this fall release is lacking multiplayer, and removes foreground and background movement.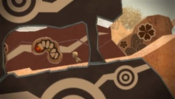 The Create mode offers all of the tools used in the PS3 version, with some simplifications and adjustments. Stephen Fry returns to do the voice work for the tutorial, only this time the tutorial is done using animated blueprints as opposed to using video straight from the game.
There are also brand new levels that are in worlds such as Carnival, Tinseltown, Orient, and Walkabout. Of course, a large part of LittleBigPlanet is the user-created levels, and PSP players will be able to download levels using ad-hoc wireless or online.
LittleBigPlanet for PSP is set for a fall release.

#Platformer