Super Meat Boy Preview
A piece of meat, a bandage, and a fetus are a peculiar combination for a video game.
Super Meat Boy is a platformer with a peculiar aesthetic. You play as an intrepid piece of meat who seeks to rescue his beau, Bandage Girl from the maniacal Dr. Fetus.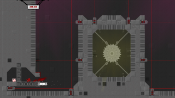 A remake of the popular Newsgrounds game, the game will bring brutally hard, classic platforming to WiiWare in early 2010. It will have many improvements over its predecessor, including tighter controls.
The main part of the game consists of five chapters with 150 levels that span a variety of locales including haunted hospitals, salt factories, and hell. In addition, there's cooperative and competitive multiplayer, a level editor, and a large amount of secrets and unlockables.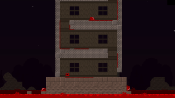 The most notable unlockables are the numerous playable characters from different indie titles, including Tim from Braid, Alien Hominid, Commander Video from the Bit.Trip series, and many more.
Super Meat Boy is currently slated for a Q1 2010 release.