Scene It? Bright Lights! Big Screen! Hands On Preview
Scene It? spreads out to Wii and PS3 this holiday season after two years of being a 360 exclusive.
My previous experience with Scene It? has only been the DVD game. I was aware of its existence on Xbox 360 the past two holidays, but I just ignored it. However, after playing the latest in the series with Lauren (my lovely fiancee and PixlBit Managing Editor) and a few PR reps, I have to say I was very entertained and amused by the movie trivia game, which is hitting Wii and PlayStation 3 for the first time. There's over 20 different puzzle types, including one that is like six degrees of separation.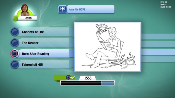 You can play with up to four players and each one chooses an avatar that echoes a familiar Hollywood actor or archetype. I chose The Leading Man, who seemed to mimic Will Smith. Each avatar has a lot of humorous tics, such as the Martial Artist who makes a lot of over-exaggerated noises.
There's tons of movies included, and in my time with the game, I saw clips from Ghostbusters, The Big Lebowski, and some romantic comedies I was unaware of. There's a lot of variety, and it includes a laundry list of films from the past forty years, including summer 2009 releases.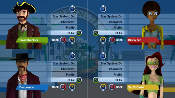 Previous titles came with big-buttoned 360 controllers, and those will remain compatible with the Xbox 360 version. The Buzz! Buzzer controllers for PlayStation 3 will also be compatible.
In the past, the games were published by Microsoft Games Studios, but this time around Warner Bros. Interactive Entertainment is handling the job. It's developed by Artificial Mind & Movement, who strangely enough are responsible for the recent 360 and PS3 release, Wet. Bright Lights! Big Screen! seems to be the polar opposite of that game, but it looks like it's going to be a great party game when it hits stores this holiday season.