Scooby-Doo! First Frights Review
RECOMMENDATION:

For younger fans of brawlers and all fans of Scooby-Doo.

There have been a good number of Scooby-Doo video games in the past, but the series has been dormant since 2005. Warner Bros. Interactive Entertainment took the reins of the series and published Scooby-Doo! First Frights, which is developed by Australian-based Torus Games. It is a beat-'em-up in the same vein as the LEGO series, except instead of reliving Star Wars or Indiana Jones movies with LEGOs, you're experiencing four new episodes of Scooby and the gang in a cartoon style.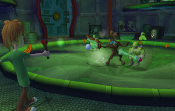 Being as these are the earliest tales of Mystery Inc., the characters are a lot younger, and the art style is also drastically different from any other media. This would be jarring if it weren't for the fact that the game features the original voice cast in all levels and cut scenes. The latter tells the story of each episode in a fashion similar to Scooby's cartoon escapades. They all follow a formula, but this is a tried-and-true formula, and it easily translates to a video game.
Every episode begins with a scene-setting intro where the gang finds out about the ghoul that's haunting the area. There's a variety of settings as you go from a high school to a castle. After the introduction, the gameplay begins as you go off as a pair of the five playable characters. Unfortunately, you have no say over which two characters you can control in each level in Story mode.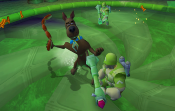 Each character has a specialization in either melee or ranged combat. For example, Scooby uses a sausage link like a nunchuk, and Velma hurls books at enemies. They also all have special abilities that are used to solve puzzles in the game's 22 levels. Scooby can go through doggie doors, Shaggy has a grappling hook (yea, that doesn't make sense to me either), Fred's super strong, Daphne can shimmy up and down poles, and Velma works with computers.
Outside of those puzzles, First Frights is just a simple beat-'em-up as you go through masses of enemies with a friend or the computer. You collect Scooby Snacks, which equate to the bits in the LEGO series as you can unlock new costumes and playable enemies. The costumes are amusing and vary the combat greatly. Velma's sumo suit completely changes the way she plays as she becomes a rough and tough brawler as opposed to the sheepish book-thrower she normally is. Also, Scooby as a ninja is adorable, and Valkyrie Daphne and Centurion Fred are both humorous. The only bad thing about the costumes and characters is that they can only be chosen in Explore mode, which is unlocked for a level after you beat it. Right after you unlock the costumes, you will play the next level with the character wearing it whether you like it or not.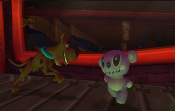 There are two changes of pace to the level-based formula, and those are the chase and boss levels. In chases, you run towards the screen while a ghoul creeps up behind you and the level scrolls forward. They're entertaining and short, but nothing to write home about. The boss battles, which conclude each episode, are fun and require a bit of strategy. Their conclusions are sharp as you get to pick out who the villain is before you unmask them. It's usually blatantly obvious who did it, but it is a nice touch to include the iconic unmasking.
First Frights shines in those little touches. There's a laugh track, a lot of dumb and fitting jokes, unmaskings, and the original voice actors. It's a well done Scooby-Doo video game. However, if you take that all away, it's just a run-of-the-mill beat-'em-up. Still, Scooby-Doo! First Frights is perfect for kids, and might even amuse their parents with its references.