God of War: Ghost of Sparta Review
RECOMMENDATION:

Though Ghost of Sparta will surely satisfy any God of War fan, gamers may want to wait for a price drop due to its short playtime.

This year has been a big one for God of War fans, with the release of the highly anticipated third edition of the series, God of War III, and now a brand new adventure, Ghost of Sparta. The new title features a great story that offers some rare insight into Kratos' background, driving forward a fast-paced quality adventure that the series is known for. Though the title is a bit short and doesn't expand upon the usual God of War formula, die-hard fans will undoubtedly be thrilled by the familiar experience.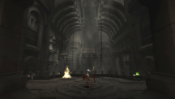 The latest installment of the God of War series explores Kratos' traumatic childhood experience of losing his little brother. Taken by the God of War, Ares, for being the prophetic individual responsible for one day bringing about the downfall of Mount Olympus, Kratos' brother, Deimos, was presumed dead. Before the events in God of War III, Kratos is haunted by nightmarish dreams of the kidnapping, and is driven to set out on a journey to seek the meaning behind the visions. Through his travels he eventually arrives at the destined location to find his mother, Callisto, lying listlessly, waiting for him. She explains to Kratos that his brother is not dead, as she had always told him while under threat by Kratos' unnamed father.
Like previous titles in the God of War series, Ghost of Sparta takes players on a journey through ancient Greece, this time around featuring locations such as the temple of Poseidon, sunken city of Atlantis, and the temple of Thanatos. While the title offers a unique view into Kratos' back story, the gameplay contained within doesn't stray from the norm of the series.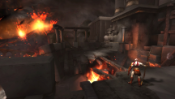 As always players will find themselves on a swiftly moving non-stop action fest that flows smoothly from one Greek location to the next. Along the way, players will perform the usual platforming, solve puzzles, search for chests containing upgrade items, and of course, engage in plenty of combat.
The action featured in Ghost of Sparta follows the same familiar convention set forth by its predecessors, and showcases a new weapon as well as several brand new magical spells. The newest weapon for the series, the Arms of Sparta, dresses Kratos in the traditional garb of a Spartan Warrior and is considerably more powerful than the standard Chains of Athena. The one downside to the new weaponry is that it doesn't have the same range as the Chains of Athena, though the two can quickly and easily be switched between, allowing players to utilize the right weapon at the appropriate time. One considerable advantage to using the Arms of Sparta, besides the increased power, is the ability to throw spears at distant enemies. This not only allows players to take out enemies before they can become an inconvenience, but it's also an incredibly handy tactic when in battle.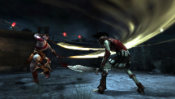 While the Arms of Sparta are a great addition to the series, the new spells are a bit underwhelming when compared with some of the others previously utilized in past God of War titles. This time around players have four magical abilities, three of which are new; the Eye of Atlantis, Scourge of Erinys, and the Horn of Boreas. With the exception of the Eye of AtIantis, which deals electrical damage to enemies in addition to stunning them, the several other spells listed fall just a bit short. When compared to some of the other magic abilities introduced over the series' history, they felt fairly ineffective, both in terms of dealing damage to and/or stunning multiple enemies.
In addition to new magic and weaponry, Kratos can now activate the rage move, Thera's Bane; an ability that is not only useful for dealing heavy damage to an enemy, but is also necessary to solve certain puzzles, open particular pathways, and defeat specific enemies. Most notably the fire is the only way to cut through armored enemies and other metal objects within the game. Thankfully, the gauge for Thera's Bane refills on its own after a short amount of time, which forces players to develop a tactic in order to defeat multiple heavily armored enemies within an area.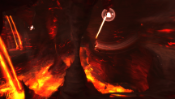 One of my biggest complaints with the God of War series has always been that it lacked strategy and never tries to break the mold of its design. As with God of War III, Ghost of Sparta implements a battle system that is repetitive most of the time and filled with quick time events, but does occasionally pit players against formidable foes that force them to take use of their skill set, rather than simply smash on the square button.
Keeping in line with other titles in the series, Ghost of Sparta features a challenge mode known as Challenge of the Gods. Considering the extremely short length of the main title, playing through the thirteen additional challenges is a much appreciated inclusion. In order to unlock eight out of the thirteen trials, players will have to explore a new mode, unique to Ghost of Sparta, called the Temple of Zeus. Here players will be able to spend the red orbs they have acquired throughout the main storyline and challenges in order to unlock rewards such concept art, character sets, videos, and the eight additional challenge mode trials.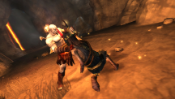 Unfortunately for Ghost of Sparta, though it may be enjoyable and well done, there is nothing to distinguish it among its brethren, other than its story. After four other God of War titles, I've slain all the same enemies thousands of times, I've traveled through dozens of attractive, similar looking Greek locations, I've found all the hidden items, upgraded all of my arsenal, and have watched Kratos violently and mercilessly slay dozens of enemies in many brutal ways. At this point, the God of War formula has become tired, and I wish that the series would simply conclude in glory, or evolve.
Regardless, there's no disputing that Ghost of Sparta is a good game. In all, it's just another standard God of War title that remains firmly implanted within its comfort zone, creating an experience that feels more like a piece of downloadable content; a three-to-five hour extension of the main storyline of the series.