Metal Gear Solid HD Collection Review
RECOMMENDATION:

If you're a fan of Metal Gear, this purchase is a no-brainer. If you're new to the series or only played MGS 4, there is plenty in this collection to love. Just keep in mind that these are older games and predate many improvements to the third person action genre.

With HD collections of our favorite games of the past becoming a regular occurrence, we here at PixlBit have been trying to decide how best to cover them. When reviewing an HD remake, do we do a normal critique of the original game? Do we evaluate the quality of the HD conversion and special features? Or is the answer found with a little of column "A" and a little of column "B"? Well, I'm going to try a little experiment with this review of Metal Gear Solid HD Collection, and hopefully you wonderful readers will let us know if this format works well for you.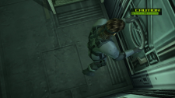 What is it?
The Metal Gear Solid HD collection is a compilation of three games from Hideo Kojima's critically-acclaimed stealth series (actually five, but we'll get to that in a bit). You'll get Metal Gear Solid 2: Sons of Liberty, Metal Gear Solid 3: Snake Eater, and the formerly PSP-exclusive Metal Gear Solid: Peace Walker. MGS 2 is possibly the most divisive game in the entire franchise for a number of reasons; chief among them is the fact that you only play as Solid Snake for the first couple hours of the game. After that, you'll be in the sneaking suit of Raiden. For the record, I've always thought this was a bold and creative move, and I honestly like Raiden as a character. The other love it or hate it aspect of MGS 2 is the fact that so much of the story plays out through static codec screens. Prepare to watch a lot of green talking heads. Metal Gear Solid 2 introduced many gameplay elements to the series that remain today, like first person aiming, non-lethal combat options, and the ability to hang from ledges.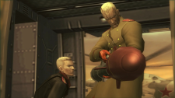 MGS 3: Snake Eater is actually a prequel to the first game and takes you all the way back in time to 1964. This game focuses on "Naked Snake" who later is known as Big Boss. Snake Eater is a tour de force, and in my opinion the reason to buy this collection. It may be my favorite game in the series, if not neck and neck with MGS 4: Guns of the Patriots. Snake Eater strikes a great balance between story and action and has some of the best boss fights in the series. MGS 3 is known for adding the deep and complex CQC (Close Quarters Combat) system as well as the camouflage index. As its title implies, there is also a survival element to the game, as you'll have to hunt for food to keep your stamina up as you traverse the dangerous Soviet wilderness.
Peace Walker is an odd duck in comparison to the other two games, and probably my least favorite part of this collection. But considering how much game is in this set, you can forgive a less than excellent game to be included. Peace Walker does away with many of the Metal Gear Solid staples, like crawling over terrain, first person targeting, and cohesive level design. Showing its portable roots, Peace Walker has short missions that can be completed in as little as five minutes if you know what you're doing. There's also an online component where you can team up with up to three other players. You'll get a home base that grows based on how many soldiers you can, ahem, persuade to join your cause. You do this by knocking them out during missions and basically kidnapping them. Once they see your way of doing things, they can help craft items and weapons, provided you have the cash and the skill to do so.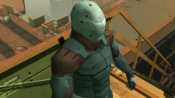 How is it?
Unless you've made an effort to go back and play MGS 2 from time to time over the years, it's a little rough going back to it. If you never played this game to begin with and started, say, with Metal Gear Solid 4, it may be nigh-impossible to enjoy. Oh, MGS 2 is fantastic, don't get me wrong. I loved it in 2001 and I love it in 2011, but since this was also my first time seriously playing it in ten years I had…issues with it. The game keeps the overhead camera from the first MGS, but since the camera will shift when you go into first person or stick to a wall it can be disorienting. Also problematic are the overly-complicated controls. The Metal Gear series has always had complex controls, but going back to MGS 2 shows just how refined the series has become since 2001. I found myself getting spotted and killed many times over due to the camera or controls flipping out on me. Eventually I got the hang of it again and had fewer problems, but it's going to take a lot of patience for a new player to get into MGS 2. You'll also have to deal with the story which, while having some brilliant moments, also goes into crazy areas towards the endgame. I still think Sons of Liberty is a great game and worth your time—just keep in mind that it has dated game mechanics and storytelling conventions.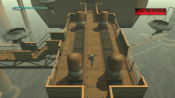 Snake Eater, on the other hand, holds up brilliantly. This is one of my favorite Metal Gear stories, and part of that is the cold war-era, James Bond-like narrative. Stalking through the jungle, finding food to live off of, and getting the drop on Soviet soldiers is still a joy, and I really don't have any complaints about MGS 3. The leap in character detail over MGS 2 is astounding, and with the HD upgrade it actually holds up pretty well to modern games. The music is some of the best in the franchise, and Snake Eater has some moments that no other game in the series has come close to replicating. There is of course some Kojima craziness, especially when he pushes up against the Fourth Wall, but by and large this is one of the best games from the PlayStation 2, and is now playable on an Xbox system for the very first time.
If Snake Eater is the reason that I recommend this collection, Peace Walker is the game that I would just mention in passing. The short, portable-friendly missions probably worked great on the PSP, but on the home console they make the game feel disconnected and break the flow of the story. That story is interesting, and this time is told through some comic book-style interludes and the occasional codec conversation. But the thing that really holds Peace Walker back for me is the Monster Hunter-inspired emphasis on co-op play. The boss fights in particular are geared towards having more than one player, and if you want to go it solo you're in for an unbalanced and difficult time. With Xbox Live you probably have a better chance of finding people to help you out, but in my time reviewing the game, that wasn't the case. Hopefully the game sells well and people get together to play online, because some of those missions are brutal on your own.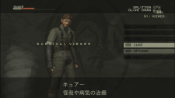 What's new?
All three games have been re-mastered in glorious 1080p resolution, and they look fantastic. While MGS 2 and Peace Walker take a hit due to their lower poly-count character models, MGS 3 looks fantastic. The Metal Gear games have always pushed the systems they debut on to their limits, and that is really made evident when you see how well these games hold up with a little bit of HD polish on them. In a special treat, you'll get all of the special features that were added to the Substance and Subsistence versions of MGS 2 and 3, respectively. That means that you can play through the special "Snake Tales" levels on MGS 2 (did someone ask for Snake on a skateboard?), the VR missions, and you'll get the MSX versions of the original Metal Gear and Metal Gear 2: Solid Snake. One of these days I'll actually play these, but it's great to see them included in this collection.
This compilation has a full host of achievements to hunt for (including 50 for Peace Walker), and many of them are very clever and test how well you know the little secrets of the Metal Gear series. Even though the game comes with a bare-bones instruction manual, it is very nice to see that all three games have very detailed, digital versions of the original booklets. Unfortunately, these digital instructions can't be accessed from within the games, and MGS 2 in particular has no way to change the options without completely resetting the game. Also, considering that I have played all of the other Metal Gear games on PlayStation systems, I found the games to feel just slightly off while playing with an Xbox 360 controller. This is merely a personal preference on my part, however; the games control just fine once you get used to the complicated (by modern standards) control schemes.
This review is based on the Xbox 360 version of the game, but I spent some time with the PlayStation 3 release as well. The games look identical, but there are a few differences in features that you may want to consider. The PS3 version has different trophies than the 360 version, and they tend to be more hardcore than the 360 achievements. The HD Collection on PS3 fits all three games onto one blu-ray disc, but on the 360, Peace Walker is on a second disc.

Lastly, the PS3 version of the game offers the "transfarring" option for Peace Walker, which allows you to transfer your save files from the PS3 to the PSP version. It's kind of an extravagant option, but if you own both versions of the game (like me), it can be an interesting toy. People have put hundreds of hours into Peace Walker, so it might be viable for some players.