Trine 2 Review
RECOMMENDATION:

Fans of the original, graphics snobs, and those looking for an entry level puzzle/platformer will enjoy Trine 2 very much.

It's obvious that Trine 2 is trying to impress. The bright and vibrant visuals paint a particularly lovely picture and the music is appropriate – thunderous at times and ambient at others. The production values suggest it may be one of the best puzzle platformers released in quite some time, but after digging a little deeper it only proves that you can't judge a game by its looks alone.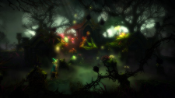 For those unaware a trine refers to a group of three that work harmoniously together and is the titular basis for the game. You control three characters with decidedly different skill sets: a lumbering, sword-wielding warrior, an agile, zip-lining thief, and the cowardly, conjuring wizard. With a press of a button the player can switch characters in order to solve the various puzzles that impede progress.
One of the more unique and interesting aspects of the game is that every puzzle can be overcome in a variety of ways and by almost any character. This freedom of movement keeps the player from being shoehorned into progressing through the game in a predetermined fashion. This is a good thing, but it also makes the game much easier as solutions to different puzzles are almost immediately apparent. Players looking for a challenge may want to concentrate on taking the less obvious path, but it's hard to resist the obvious answer.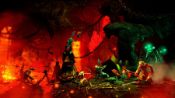 Perhaps to combat the simplistic nature of the puzzles, the designers made it a point to not tell the player everything that can be done with each character's skill set. A bare minimum of explanation is given for each of the character's abilities, which isn't necessarily a bad thing. Discovering the different ways that each ability may be applied adds an element of experimentation, ultimately making for a deeper and more satisfying experience.
Abilities can be augmented as you level up. Each character has an admittedly barren skill tree to which points can be added to purchase augmented abilities. It's standard fare for the action/adventure genre and almost feels out of place in this game. It's a novel idea, but with so few options the addition seems hardly worth it. You could go through the entire game without spending a single point. It's understandable that the developers didn't want to make puzzles dependent upon locked abilities, but having these unlock secret alternate paths would have better justified this aspect.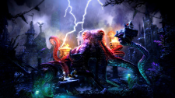 Since Trine 2 is best described as a puzzle platformer you can expect a certain amount of running and jumping will be required. This is Trine 2's weakest aspect, as the controls are overly touchy which results in twitchy looking characters and undesirable outcomes. The thief's zip-line is particularly unwieldy, controlling very similarly to the Ninja Rope from the Worms franchise. It can be exceptionally useful, but wielding it is a practice in maddening trial and error – mostly error – that may have you minimizing the use of that character.
Trine 2 has added online multiplayer to the previously present locally available option. Both modes work the same with up to three players controlling a character to tackle puzzles together. It's a lot of fun, but having all three characters work together makes for a much easier game than tackling it alone. I can't help but feel that they should have taken the Portal 2 route in regards to the multiplayer and specifically designed a few levels that could only be conquered by teamwork.
A lot can be said about Trine 2's visual presentation – it really is one of the more stunning games I have seen, especially as a downloadable title – but the game is certainly not without its faults. There is a thin line between being easily accessible and being too easy. Unfortunately Trine 2 stumbles a bit while walking that line, but it's still a fun experience that's worth trying out.