Hitman: Sniper Challenge Review
RECOMMENDATION:

If you are excited enough to want to pre-order Hitman: Absolution, you would be crazy not to make sure you get this cool bonus. Unless you don't have a Gamestop in your area, in which case I would cue the Nelson Muntz laugh.

The hype train for Hitman: Absolution has officially left the station, and to get fans amped up for the return of Agent 47 IO Interactive and Square Enix have put together a rather unique pre-order bonus for the game in Hitman: Sniper Challenge. It's an interesting bit of fun to tide players over with until the release of the full game, but I can't help wishing that this was a more robust offering. Given a few tweaks, this could be one of the most addicting games on XBLA and PSN.
As the name would imply, Hitman: Sniper Challenge is a special score attack mode that tasks players with eliminating CEO Richard Strong, Jr. and his entire retinue of bodyguards via Agent 47's handy sniper rifle. Your target is a recluse and the only window of opportunity you have to end him is the 15 minutes he spends mingling at his company party on a rooftop penthouse. The clock is ticking, and you will need to be swift, efficient, and cunning if you want to silence all of your targets without alerting the guards or the party goers.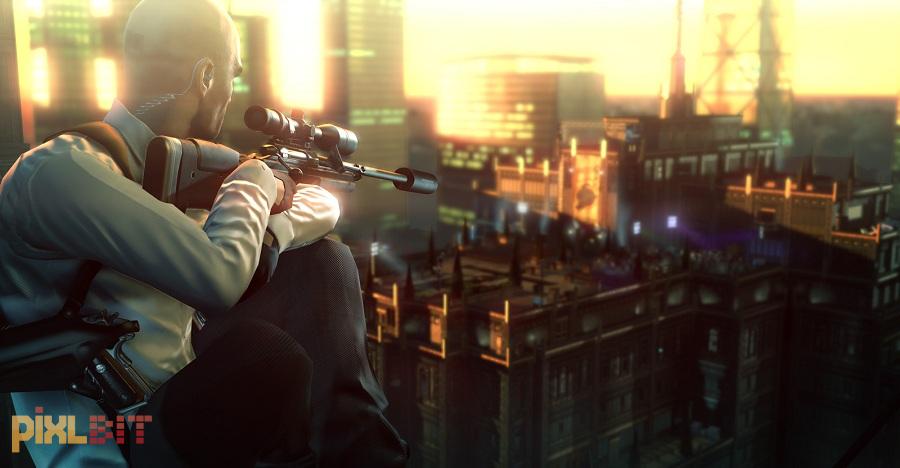 Perched atop a roof with a wonderful vantage point of the entire proceedings, Sniper Challenge slips easily into that classic Hitman gameplay, even if the whole level is based around a sniper rifle. This is a puzzle that you will need to work out by repetition and memorization. That may be a turn off to people unfamiliar with the Hitman franchise, but I felt right at home as I waited for that special moment when a guard was alone and vulnerable to a quick and deadly headshot.
Hiding bodies has always been a hallmark of this franchise, and Sniper Challenge comes up with some clever ways of doing this from afar. Since the party takes place on a rooftop there are plenty of opportunities to send a guard over the ledge with a well-placed shot. If you scour the environment you'll find even more devious ways of making targets disappear, and the rewarding feeling you get from figuring out how to hide bodies just so is one of those things that makes this series great.
Besides the obvious benefit of achieving that lofty "silent assassin" rating, hiding bodies will net you bonus points. Sniper Challenge isn't the type of thing you play once and set down, but instead is a game where you're constantly replaying the level to try and get a better score. Like a good game of Tony Hawk's Pro Skater or Geometry Wars you'll find yourself hitting restart when you know you've botched a perfect run-through, constantly seeking out bigger points and better unlocks.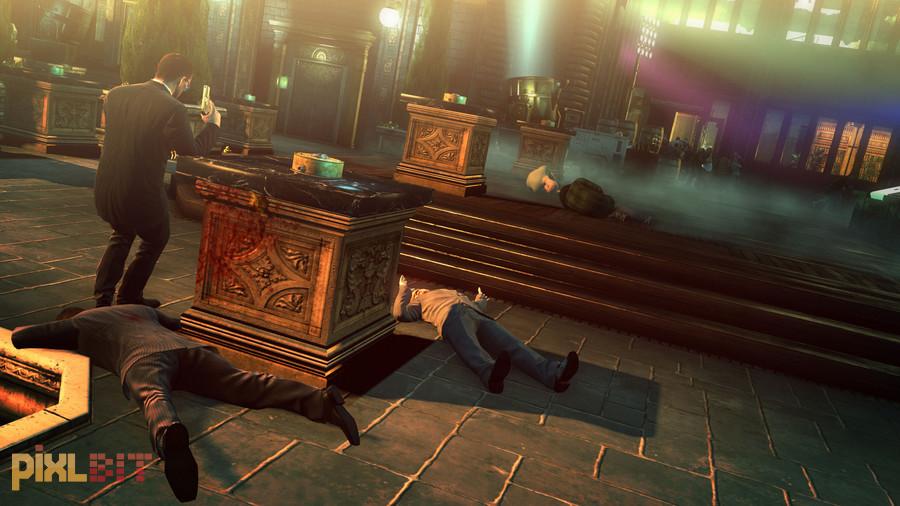 There are 14 special "challenges" (read: achievements) that will net you a small score multiplier once unlocked. These are very tricky to earn as the descriptions can be pretty vague, but spend enough time observing the environment and all will be revealed. Unlocking these challenges will also earn you various perks that not only help you in Sniper Challenge but will carry over into Absolution, although it should be noted that they are all centered around the use of sniper rifles and few levels in Hitman games allow for creative use of sniping.
That's all well and good, and for what it is, Sniper Challenge is a lot of fun. I totally got sucked into that loop of playing "one more game" to improve my score, but at the end of the day there really isn't much to this game. I even hesitate to call it a game, because it's really more of a marketing gimmick, albeit a wonderfully executed one. You're not going to add achievement points or trophies to your collection and with one level to play it won't be long until you've exhausted the options available to you. What remains is a fun, arcade-style diversion that is a few steps shy of being something much more.
Hitman: Sniper Challenge is a lot of fun for what it is. It sports detailed graphics and packs a lot to see and discover into a very small area, but I wanted more. If IO could have added five or six more levels this would be a game I could easily see spending ten dollars on. Of course, this game is technically free, as all you need to play it is a pre-order at Gamestop. That opens up a whole other level of criticism, as this is something I think all Hitman players would enjoy, and it's a shame that it will only be offered to people that purchase the game at one specific retailer. But if you're one of those fans that did pre-order it or are planning on it, this is one of the best pre-order bonuses I've seen in quite some time. I just wish it had a little more going on.