Sega Vintage Collection: Golden Axe Review
RECOMMENDATION:

If you have fond memories of playing the first game in a dank arcade room or spent hours on the Genesis games, this collection is for you.

Brawlers. Beat-'em-ups. Side-scrolling action games. Double Dragon clones. Growing up with video games in the '80s meant that genres weren't all that well defined as we raced to try and contextualize this new and exciting hobby. Whatever label you choose to give Golden Axe, it can't be denied that it was one of the progenitors of the genre that would go on to spawn the likes of Final Fight and Streets of Rage. Sega has trotted their fantasy beat-'em-up (my personal favorite label) many times over the years, but with Sega Vintage Collection: Golden Axe the company has put together what is supposed to be the definitive collection of the series. While it falls just short of that, this is the best way to experience Golden Axe 1-3. Unless you can travel back in time, but if you could do that I would hope you have a bigger plan than playing a classic Sega arcade game.
SVC: Golden Axe has an impressive front end that puts into perspective the storied history of the games contained within. Sega has released a handful of games under this label on XBLA in the past, but they were simple ports, and a few of them suffer from an odd glitch that makes the Xbox think you don't own the games when you in fact do. If you're one of those people that own but can't play the older release of Golden Axe you may want to continue reading, because I think it's worth a second purchase.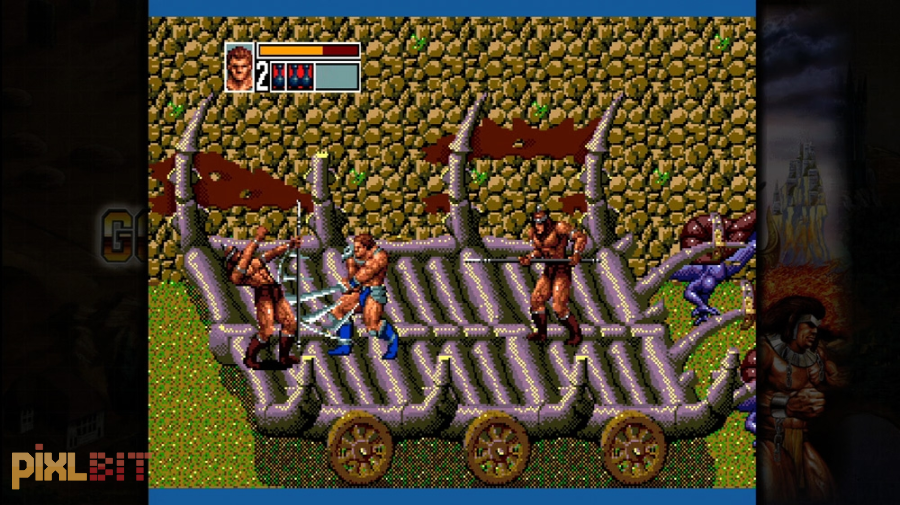 Taking a page from Capcom's excellent Final Fight Double Impact collection, this compilation of Golden Axe features a menu with all three games playing on screens. The first game is of course the original arcade cabinet, and Golden Axe II and III are displayed on old CRT televisions with a lovingly rendered Sega Genesis system perched on a table. All three of the games have a plethora of options to tweak, including the must-have ability to put a "scan line" filter over the screen to emulate the way these games looked on CRTs. I give major kudos to the fine folks at Sega for all the bells and whistles included in this collection; especially the ability to use the original arcade art as your wallpaper for the first Golden Axe. You can even stretch the picture out to fill a widescreen TV, but why would you do that?
Golden Axe is one of my all-time favorite games. I used to play it at the Pizza Hut down the street from my house, and I eventually got good enough at the game that I could complete it with only one quarter. I've played this game hundreds of times over many ports and incarnations. The point is, I know this game extremely well, and I can easily say that the version included in SVC: Golden Axe is the closest you can get to playing the original arcade machine at home. Playing Golden Axe with the scan lines turned on, the original arcade art on the borders of the screen and a joystick hooked up was a revelatory experience for me. The game has never looked this good on a console, and this is the best I've heard Golden Axe sound since playing it in that dingy Pizza Hut game room. After years of playing the game on the Genesis and flawed ports like the Sega Smash Pack on Dreamcast, hearing the agonizing screams of the fallen as they were meant to be heard was quite a treat.
Golden Axe II is sadly inferior to the original in almost every respect. Developed solely for the Genesis, it simply can't compare on a graphical and audio level to the splendor of the arcade original. Taken as a stand-alone Genesis title it certainly holds its own against other brawlers on the system, but it falls flat as a follow-up to Golden Axe in my book. All three characters from the first game return, but they really don't have any new moves to speak of, and the game seems more like a remix than a full-on sequel. Less enemy variety and lackluster boss characters do little to counter that feeling. The game is much more challenging than the first game, but I also haven't played it to the extent that I played Golden Axe, so take that as you will. The magic system is much more flexible here, and it seems like you get access to magic far more often, so letting the spells fly is a lot of fun.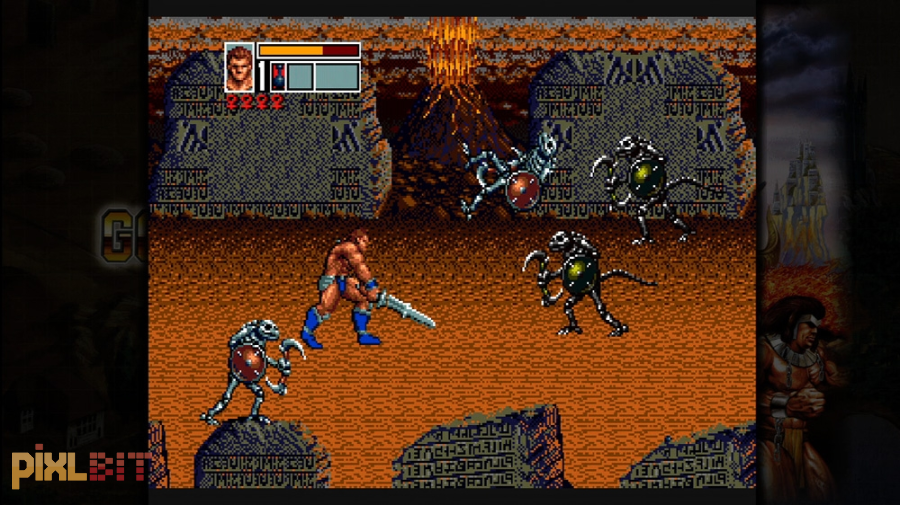 If Golden Axe II is inferior, Golden Axe III is a failure. I really don't know what went wrong in the development of this game, but for a game released on the Genesis (well, Mega Drive) in 1993 it doesn't seem to have any of the graphical or audio quality seen in games like Streets of Rage 2, or even Golden Axe II for that matter. It features an entirely new cast of characters, even if two of them are basically carbon copies of Ax Battler and Tyris Flare. You even get two extra characters to choose from, but I didn't really care for either of them. The animation in this game is lazy and the enemy A.I. is extremely unfair. Enemies get to a point where they block 9 out of 10 attacks, which leads to drawn out and boring encounters. This may be why this game was never actually released in America. Another issue is that the in-game manual doesn't talk about the new moves available in this game. I know you can block, and there are special moves to perform, but I never actually learned how to do them. I beat Golden Axe III and plan on never playing it again. Ironic, considering that this is the game that includes multiple pathways and endings. Also, they took out my main dwarf Gilius Thunderhead, so Golden Axe III is a real disappointment in my book.
All told, Sega Vintage Collection: Golden Axe is a solid compilation of one of Sega's most hallowed classic franchises. While Golden Axe II and III fail to live up to the original arcade game, the options and customization are a welcome inclusion. If only this collection included the 32-bit arcade-only release of Golden Axe: The Revenge of Death Adder this would be an automatic recommendation from me. That game has never been ported or collected, and it featured four-player co-op, but alas, it is not included here. Even so, this is still a must-have collection for Sega purists, and anyone wanting to have some old-fashioned beat-'em-up fun.