Gunpoint Review
RECOMMENDATION:

This game is many things and, most likely, it is for you.

It's easy to attach labels to games. We want to know if it's a first person shooter or a platformer, but sometimes that's a bad idea. We end up sticking games into categories which become their go-to description and don't communicate what a game's real essence is. For this reason, I'm not even going to try and compartmentalize Gunpoint because that would be doing it a huge disservice. Even though I have no idea what sort of game Gunpoint is, I know it's a ton of fun to play.
You'll realize that Gunpoint is a bit unusual from the start when it tries to justify the fact that your noir styled spy-for-hire, Richard Conway, can jump to ludicrous heights and survive treacherous falls by revealing that he has high tech pants. Not only that, but he can hack into the electrics of every building to connect light switches to doors, elevators to electrical outlets, and all sorts of crazy combinations. With his crazy pants and his 1337 hacker skills, Conway undertakes a branching series of infiltration missions to retrieve data, destroy computers, and plant decoy prototypes across various buildings.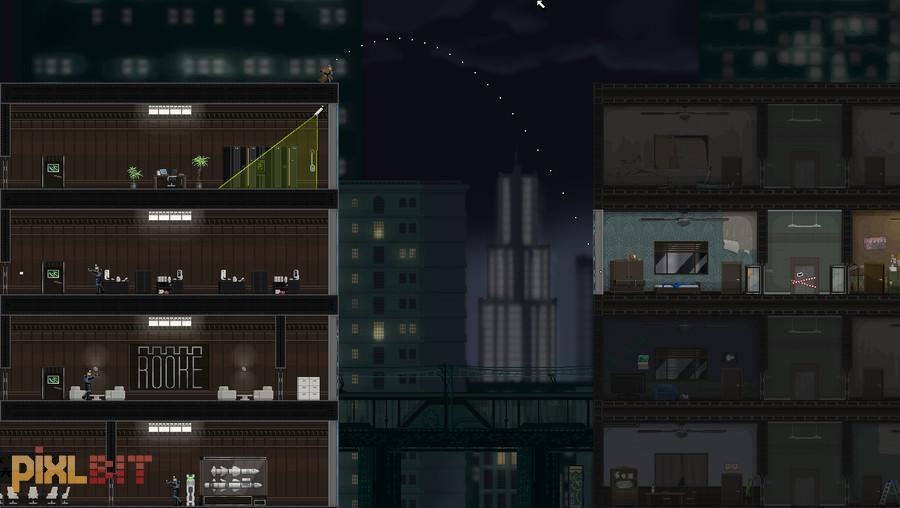 Which missions and buildings you sneak into vary based on choices you make in various text message conversations with potential clients. All of the missions are actually fairly similar in character – sneak in to this room and perform the necessary action – but how you complete them can vary significantly. Sometimes you'll have to move in and out of several buildings and other times you'll be limited to a single very tall building. Each mission has its own unique layout and combination of possible routes and ways to complete the objective, which keeps things from feeling repetitive even if the graphics almost never differ.
Deciding to shock a guard on patrol or cling to the ceiling while he passes underneath you can lead to very different set ups to get through the next hurdle in your path, be it locked door or security camera. In fact, it's fun to replay some of the levels to do things in an entirely different manner and see if things play out better or worse than your initial plans did.
There is also some variation in the order you can complete the missions based on your text conversations. Perhaps you'll side with the murder suspect or the weapons manufacturer as you proceed – and your choices do have some impact. Everyone in the story seems to be lying about something which makes it pretty confusing, but feels entirely appropriate. Betwixt the story revelations and character misdirects, there are some pretty funny moments too. The game's creator, Tom Francis, really puts his years of experience as a writer to good use with some unexpected laugh-inducing lines. There are even good moments to be found tucked around the levels, such as an internal company memo insisting that the security cameras aren't racist.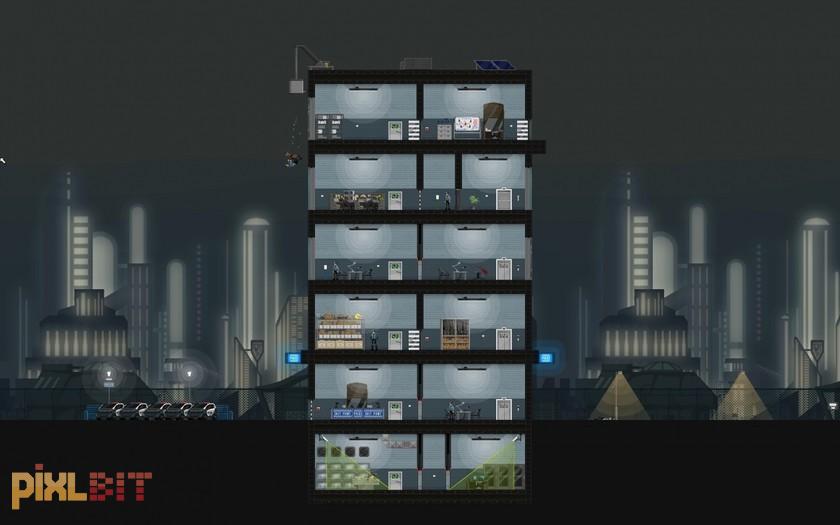 It's wonderfully surprising that a game made by someone primarily skilled as a writer also has such a well-made system of controls for both movement and hacking. Each crazy jump you make feels perfectly tuned – there is no floatiness to worry about here – and using the mouse to tie together each electrical component to set your traps and move around the buildings couldn't be more precise. The only irksome thing I encountered with the controls is that panning around the side-view levels changes based on if you're in hacking or normal mode. It's not too intuitive to use the mouse to pan in one scenario and the arrow keys for the other. I'm a wily freelance spy, though, and I managed to adjust by the end of the first few levels.
By the time I reached the end of the game, I was given the perfect ending at the perfect time. It was the best way to end my experience with Gunpoint – something unlike most other games I typically play. And this is why I'm not even going to try and stick this thing into some nice little pigeonhole and contribute to labeling it as one particular thing. Gunpoint is simply something that uses your brain, your sense of humor, and a wee bit of your reaction time to create a game that you should play – no matter your tastes.