Toki Tori 2+ Review
RECOMMENDATION:

For clever people with a lot of patience looking for an innovative puzzler.

There are casual games, and then there is Toki Tori 2+, the Lord of the Rings of devilish puzzle games: epic, gargantuan, and deep as hell. It may look cute and innocent at first, but have no doubt, this game is both immensely creative and insanely difficult. Try as I did, I was ultimately unable to beat it after three weeks of battling its fiendish design. While I'm disappointed in myself, I realize that a lot of gamers are going to suffer some of the same problems I did with it, and while it's a great game I have left unfinished, I still have a lot to say about it.
Toki Tori 2+ is essentially a puzzle game that looks like a platformer. A sequel to a cult classic Game Boy Color game, it's often called a "metroidvania" by reviewers and the developer, but this is half-true. While there is no action or weapons to be acquired, there is an essentially nonlinear game world where you can go where you like, with different puzzles unlocking different areas. You can also head back to previous sections to find collectibles and activate objects. Often times the game presents you with multiple directions: some players will choose the one with the easier puzzle; and others, the more difficult one.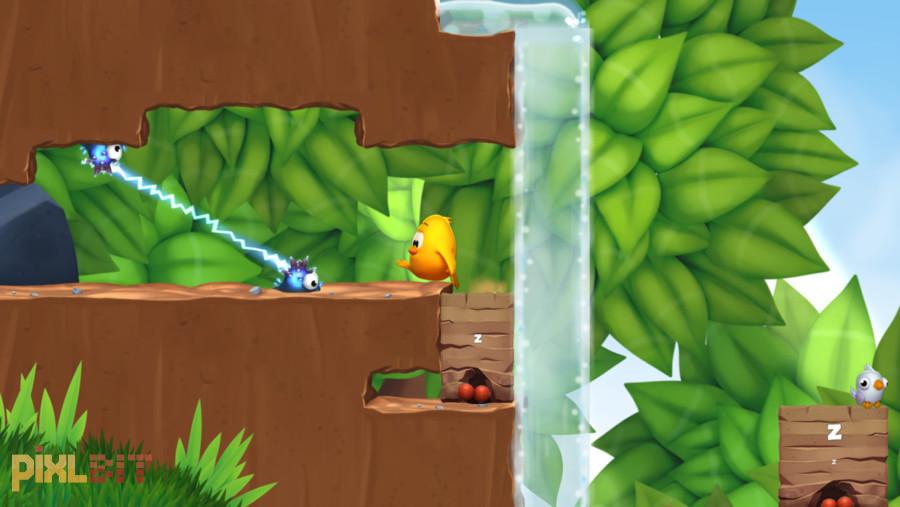 But the key here is the game play itself. You control a cute little bird as you navigate various wildernesses replete with wonder and danger. There is no jumping or attacking, which is a little strange at first, as we're used to these things in our side-scrollers. Instead, you have two moves: one button to tweet notes, and the other to smash your butt into the ground.
While you are confined to these two actions, the game and its creatures react in a myriad of ways to them, allowing you to interact with things in a complex fashion that escalates in variety as the game proceeds. For instance, if you come upon a frog that has eaten an insect, you will see it swollen with gas. Stamp your butt near it, and it will let out a big bubble that will swallow you and carry you into the air for a brief period, allowing you to get to higher areas. You can also get the frog to change the direction it is pointing by whistling to one side of it or another, allowing you to control where you can use the bubble to go.
Then there are crabs living in wooden boxes. Whistle to them and they will follow you, and if you stamp your butt near them they will move away from you. Combining these actions give you control to arrange the boxes as you like, letting your reach ladders, bridge gaps, and even crush enemies.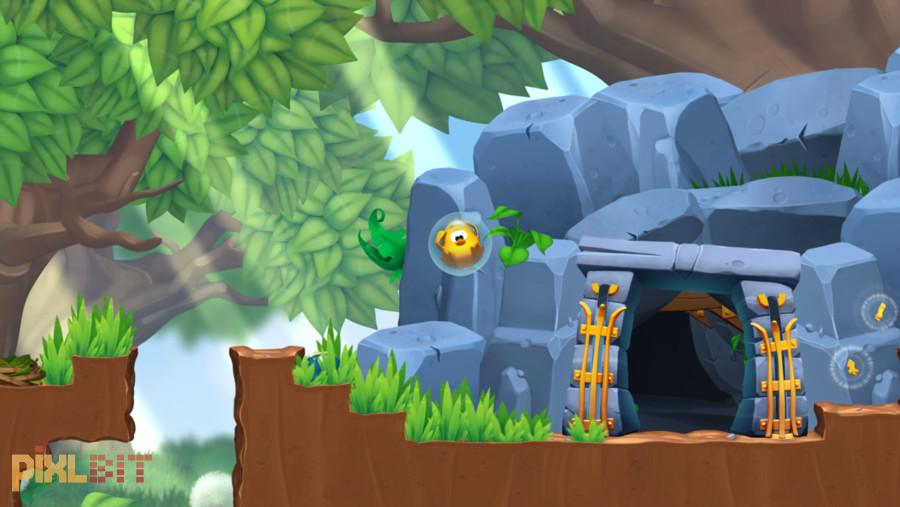 The game is filled with creatures you can interact with using your butt stomp or your bird song, and learning the nuances of these actions is the key to solving the puzzles presented to you. It might sound simple, but the variety of the puzzles is actually quite astonishing, and you really have to experience it to truly appreciate it.
Learning various melodies to tweet is also important. Periodically, a little bird will show you a melody to sing, which you play with the single tweeting button – hold it in for a long note, and just tap it for a short note. Using this combination, you can create a bunch of melodies that each have a different purpose. One resets the level, should you get stuck (a common occurrence), one summons a bird to pick you up and return you to the world map, and then there are others that are equally helpful. It's a cute and unique way of interacting with the game world, and it really adds to the immersion of the game.
There isn't a story per se, but the world does open up into some intriguing areas after you've played for a while, and the setting is revealed to not be exactly what you might think. While there isn't a lot of lore, there are hints of a complex universe here, and I have to give the developer credit for designing a unique world that is more than what it seems at first.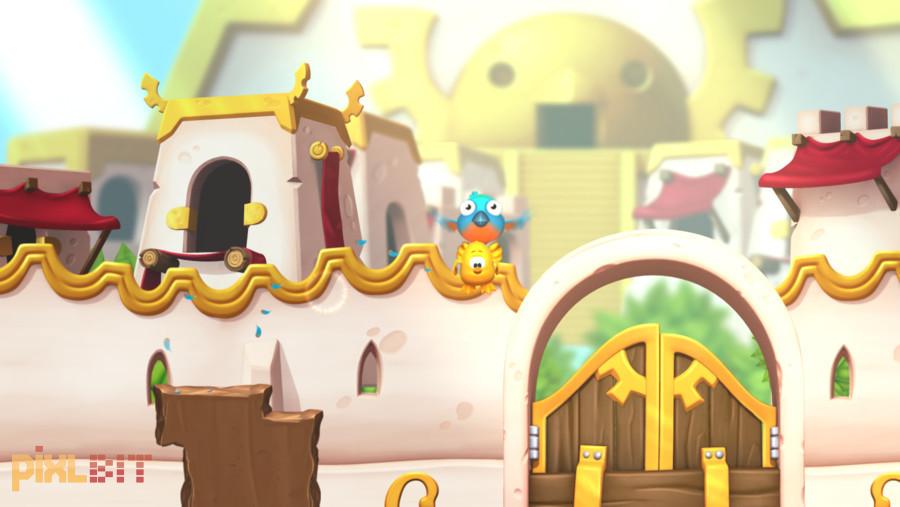 For those wondering if they'll get their money's worth with this game, let me dispel all doubt: Toki Tori 2+ is HUGE. I put in about six hours before I gave up, and I still had tons to do in the game. I imagine in total, the game probably takes about ten hours or more to complete, depending on your speed with the puzzles and how many of the collectables you acquire. Of course, this isn't a 40 hour JRPG, but for $15 or less, depending on where you buy it, this is a deep puzzle game with loads of content.
I really liked Toki Tori 2+, even though it ultimately bested me. I wish I could have beaten it, but I reached the point where the puzzles were driving me absolutely bonkers, and I just couldn't figure out what to do. There is a helpful online community, and you can post screen shots of the puzzle you are stuck on in Steam's forums, among other places, and experts in the game will help. But there is no formal walkthrough that I know of yet. With the size of the game and the number of the puzzles, it's easy to get stuck anywhere, really.
If you're looking for an interesting puzzle game that is unlike most, I would definitely recommend it. Toki Tori 2+ is strange, beautiful, wonderful, infuriating, and relentlessly cute. But do not underestimate it: this game is deceptively hardcore, and absolutely overflowing with content.