Real Boxing Review
RECOMMENDATION:

If you absolutely have to smash someone's face in, and no other game can satisfy that urge, this $12 title might work for an hour or two.

Sometimes in the sea of dazzling high profile games and personally expressive indie hits, we forget that 99% of everything is crap. Luckily, there are titles like Vivid Games' Real Boxing, for the Vita, to remind us of the larger ocean of mediocrity. While it's a cheap, downloadable experience rather than a full retail game – and should be judged as such – overall it's not very fun after the initial novelty becomes an unpleasant chore.
Vivid, whose other games include mobile titles Ski Jumping Pro ("Amazing 3D Graphics!"), and the well-received Speedball 2: Evolution, claims to be one of the most technologically advanced game developers in Poland. This may be true, and while the graphics of Real Boxing are quite impressive, Vivid's high tech equipment does not provide for entertaining game play. This is their first (and maybe last) Vita game, and while I applaud their support for a risky platform, the results are less than fascinating.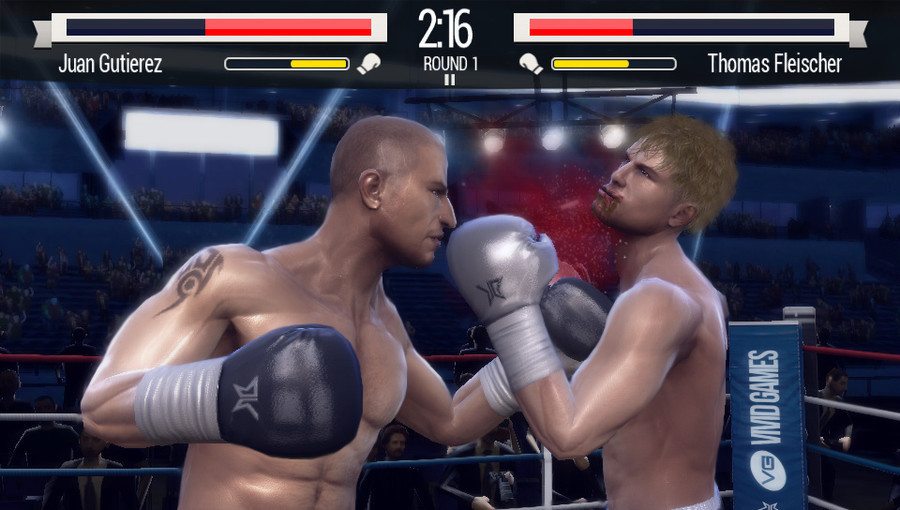 The boxing is pretty simple: you are capable of a number of punches, with the d-pad controlling your left arm, and the face buttons controlling your right, allowing for jabs, uppercuts, etc. One shoulder button blocks, and the other lets you perform body blows (including the uppercut). The left control stick handles your movement, and the right can also be used to control your punches, though I stuck to the d-pad and face buttons for that.
The controls are almost elegant; I found them easy to pick up, and they are certainly not one of the downfalls of the game. There's strategy here, and choosing whether or not to uppercut or jab at the right moment matters. The problem, however, is movement: dodging sometimes happens, sometimes not, and moving around the ring with freedom is not really an option. You can either slowly approach or slowly retreat from the other boxer, kind of with a lethargic gravity, and the fancy footwork most boxers employ is fiendishly absent.
A quick fight option is available, but most players will dive into career mode, where you create a boxer and get into a series of fights leading to a tournament and championship. The game will keep track of your record, and reward you upgrade points for winning matches. There's also a "gym" where you can perform mini-games to get perks that improve your boxer.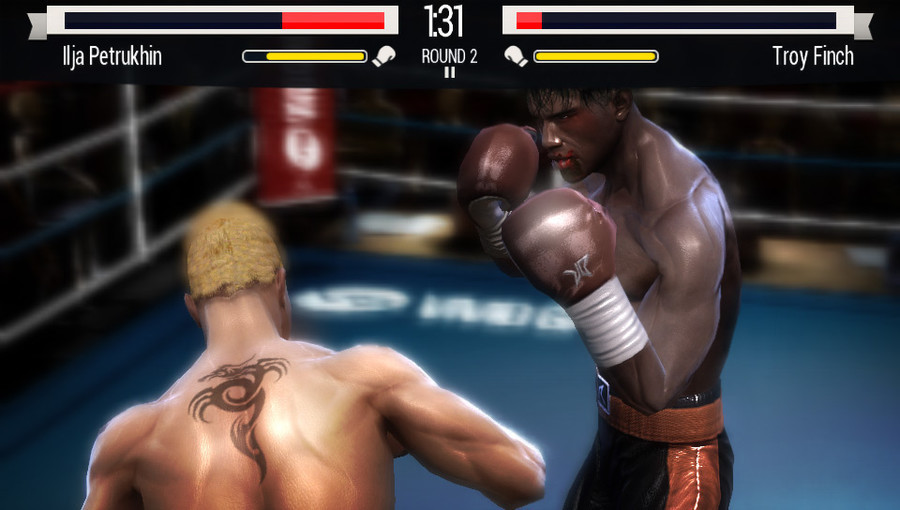 The career mode is divided into three tiers of difficulty, the first one available at the start of the game, and the others unlock as you progress. The first tier included both easy and tough matches for me, with a few close calls, but no losses.
After the first career tier however, there is a huge difficulty spike, and you start to face boxers with stats that dominate your own. I attempted to beat these monsters countless times, but was never even able to knock one of them down. They take your punches as though they were wisps of air, and their own punches blast through your blocking and cut you down in minutes.
Unfortunately, you cannot go back to the first tier to grind up your stats, but can only restart the championship tournament of that tier, resetting all your progress. So you're pretty much stuck between a rock and a hard place, unable to progress. It's almost as though play-testing never happened beyond the second tier. This makes sense, however, because it's not like play evolves over time during the course of the game. If you've played one boxing match, you've played them all, against opponents who all look the same other than different skins and hair, with the same faces and body sizes, but with varying strength, speed, and stamina.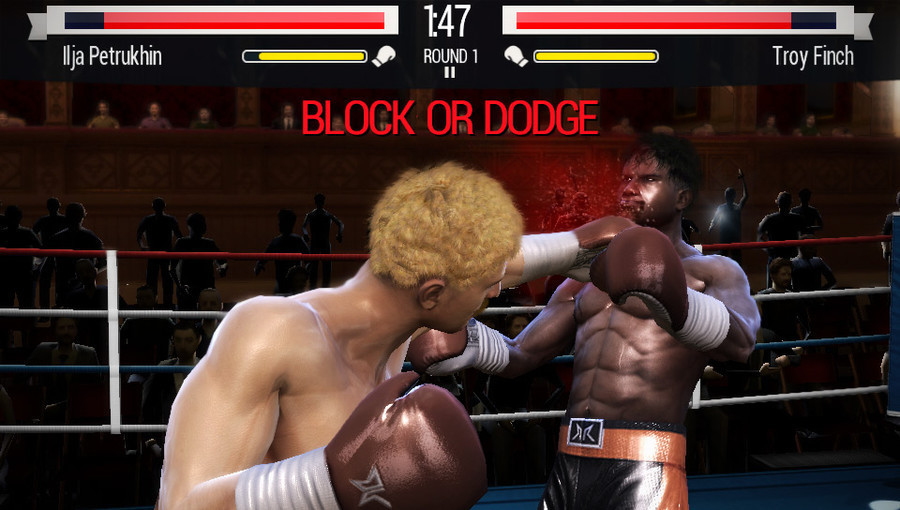 It's too bad, because I do enjoy the sport, and would have loved to enjoy the game, but despite the nice graphics, Real Boxing is mediocre at best. If you are still curious, it is a cheap game, and for an hour or so it can be a little entertaining. With the plentiful indie hits available on Vita, as well as the big name titles being slashed in price for the holidays, you should use your money more wisely.