Toy Story 3: The Video Game Review
RECOMMENDATION:

For Toy Story fans and families with smaller children.

I've learned over my years of playing video games, not to expect much out of a title based on a movie, TV show, or anything in our current pop culture. They are usually cheap, quickly thrown-together pieces of media created without any care for quality, because the character or topic it is based on is usually the only thing necessary to convince parents everywhere to shell out money for it. This is why I was genuinely shocked, as well as delighted, at the quality I found within Toy Story 3. While it is not a perfect movie game, it contains significant depth, great variety, and a gaming experience that is not only fun, challenging, and thought-provoking for its target audience, but enjoyable for adults and parents as well.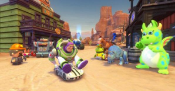 Toy Story 3 is split into several sections of gameplay; there's the main quest that contains eight different missions sticking closely to the movie plot, Woody's Toy Chest, and the Toy Store, where players can view items they have collected as well as spend coins they earn to unlock new items that can be used within the toy box.
In story mode, up-to-two players can take on the episodes together with the ability to switch between three characters from the game, Buzz, Jessie, and Woody. While all of the characters have similar moves, each of them has one special move which is necessary to perform certain stunts within the levels.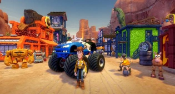 The great thing about the Story Mode in Toy Story 3 is that the gameplay is constantly changing. Unlike most titles in general, Toy Story 3 enjoys switching gears, creating one level based heavily on platforming, some on stealth, and even others containing third-person shooter type gameplay.
As an adult with over 20 years of gaming under her belt, I felt that the challenge level was present but most certainly not sufficient. However, considering children are the target audience, Toy Story 3 provides an excellent challenge with enough difficulty for them to think and strategize, while not burdening them too much as to become discouraged and frustrated.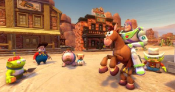 While getting from beginning to end of each Story Mode mission, it is important for players to keep an eye out for the many collectibles that are scattered throughout the levels. Generally within each level players will have to find a person (be they LEGO or Alien), Toy Story 3 game cartridges that unlock art, coins for use in the Toy Store, and a special coin. Although tackling the quest with another player is loads of fun, cooperating to obtain all of the collectibles is really the highlight.
Once Story Mode is complete, the fun is far from over, as Woody's Toy Chest contains hours of content.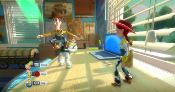 To summarize, the Toy Chest is one great area split into subsections, all containing sandbox-style gameplay. Players begin by selecting one of the same three characters they had used in Story Mode and proceed to wander around performing missions, tasks, and favors for anyone who asks. As players complete these tasks they will earn money, which eventually can be used to purchase items such as cars, toys, as well as expand the main town, and finally to unlock the majority of subsections found within the Toy Box.
Once unlocked, each of these subsections contain a full-fledged gaming experience, warping players out of the Toy Box into a unique universe complete with different gameplay that is similar to what was seen in the Story Mode.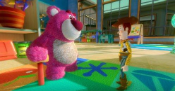 In the meantime as players earn enough money to unlock these areas, they will be performing a wide variety of tasks in the many fantastically themed areas. From rescuing the mayor to blowing up a bandit's hideout the variety contained within the Toy Box is extremely expansive. While adults may get easily bored of the sometimes redundant, and almost always incredibly easy tasks, the Toy Box will undoubtedly entertain children even long after they have completed every task.
For the most part, everything that Toy Story 3 tries to accomplish, it succeeds in. It's great fun for all ages, provides a unique play experience within the Toy Story universe, and is a long-lasting experience that kids will not become bored with. However, games are rarely, if ever, perfect, and Toy Story 3 most certainly falls victim to some general game design issues, most of which won't be noticed or cared about by the target audience.
To begin with, the camera, while perfectly behaved the majority of the time, can get stuck in the wall creating a bouncing effect. In other more frantic scenarios, it's choppy, leaving players to not only tackle their objective but wrestle with the camera controls so they can see what they are doing. Secondly, the platforming can be a bit rough around the edges, especially when making long jumps and jumping onto small objects. And finally, as an adult playing the game, it is simply far too easy.
Regardless, all Toy Story 3 fans, whether they are five or fifty will undoubtedly find humor and entertainment contained within this expansive free-range Toy Story 3 universe. With the original cast returning to perform the voice acting, the game acts as a fantastic expansion to the Toy Story experience. Parents looking for a game that will net them hours of fun and quality time with their children should look no further than Toy Story 3.