MindJack Review
RECOMMENDATION:

For someone wanting to mind control hordes of stupid minions and watch them walk into a storm of bullets for your amusement.

I was very intrigued when I first read about Mindjack and jumped at a chance to review it. A sci-fi third person shooter where your main character has the ability to "hack" into anything that has a mind or computer, as well as the ability to jump into anybody else's game seamlessly and either help or hinder them sounded like something that could be an amazing experience if executed correctly. It's those ifs that always get you, though. Mindjack, while having a unique and intriguing premise, fails completely in its execution.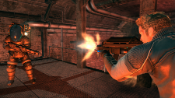 As far as I can tell, the game offers up no story to justify these unique abilities. You start floating in a room as some sort of energy being where you follow a, thankfully short, tutorial that puts you in the body of the main character, Jim Corbijn, an FIA Agent. Following around a woman in an airport named Rebecca, you watch her walk up to a man who you spuriously decide to kill; I guess being an FIA agent has its perks. Rebecca then willingly follows you after the murder (maybe she didn't like the guy) as you go through a shoot-out with the police. I honestly am a little unclear if I am a good guy or a bad guy sometimes in this game; in fact there are numerous ambiguous moments like this.
Not to make excuses for Square Enix but it feels like this game was the victim of some blunt editing or a shortened time table. Just by looking at the world design someone did put a lot of thought into what the game should be like, but enough things are glossed over or contradicted by competing thoughts that you never really end up knowing that world. And will someone explain to me how the hell mindjacking actually happens!?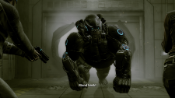 The gameplay isn't any better, unfortunately, feeling like it came from the previous console generation. Either the guns are too weak or the enemies are too tough, but you'll constantly need to empty a full clip into your opponents. Worse, they all seem to magically pop out of the ether to stop you as you march through each repetitive level. As they come barreling towards you, seemingly with no preservation instinct, you can engage in some basic melee attacks; however, these feel incredibly sticky and random. Sometimes the attack wouldn't trigger immediately, causing me to sustain more damage and scream at my TV in anger.
Once an opponent falls you can make them a "mind slave" which forces them to fight for you, which equates to them running at each foe and firing their weapons, absorbing bullets meant for you. I like to think this level of suicidal zeal is intentional and not just bad AI as maybe my slaves can't think anymore - but does that mean every opponent I am fighting is a mind slave of someone else, since they display the same stupidity? Maybe I am looking too deeply for a reason why the AI is awful and should just go with the simplest explanation, bad programming. One bright spot about the mechanic, however, is you can seemingly have as many slaves as you want, making an almost comical level of firepower as you progress through each level.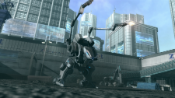 Going back to the tutorial, you have the ability jump back into the cloud form and take over an opponent, animal, or machine to do damage from a different angle. This would be nice when you are pinned down, but the ability ultimately fails in execution as it is incredibly difficult to figure out where each target is as you cycle through the various people/things. One time I thought I was going to possess the guy pinning me down and instead wound up in a hallway near the fighting with four baddies looking at me, somehow knowing I was now possessed. You should really stick with humans though as even though they handle clumsily, that is nothing to the sluggishness you will feel as a machine.
Aside from its single player application, this cloud form is how you start when you jump into someone else's game. One of the few fun times you can have is trying to hunt down and kill your friend online just to hear them curse you out when you get the drop on them, but even this gets old after a while.
Mindjack may have had a unique idea going for it but the repetitive gameplay, clumsy controls, bad AI, and lack of story make this a rental at best. The idea of being able to jump into a friend's game at will and possess your opponents is a great one, but with everything else factored in, you are better off getting one of the many other good shooters on the market.