Daikatana
Speak loudly and carry a big sword.
As one of the creators of such first-person shooters as Wolfenstein 3D and DooM, the name John Romero should be familiar to any longtime FPS fan. His name certainly had meaning in the late 90's, as he would go on to form his own company and begin hyping up its first game, Daikatana for the PC. What started with a trash-talking advert and grew to three years of delays ended with such poor critical reception as to land it on the top ten list of gaming's biggest failures. None of this seemed to deter Kemco from releasing a Nintendo 64 version of the game, which appears to have been ported in three months. Playing the game, it sure seems like that's true.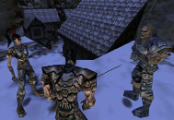 Though "Daikatana" could be translated as "big sword" in English, a "dai" is also a type of sword, so it may not be inaccurate to say the title as "Sword Sword." It also differs from the two Japanese kanji characters shown on the cover, which would normally be Romanized as "daito." John Romero's lack of understanding of the Japanese language could be overlooked if it weren't for the fact that a similar amount of care, or lack thereof, went into the design of his game.
The titular sword is a magical blade forged in the distant past, which holds immense power. In the year 2455, Hiro Miyamoto, a distant relative of the legendary sword's forger, learns that Mishima, who rules over the world, had acquired the Daikatana, thought to have been thrown into a raging volcano. Our hero, Hiro (Oh, I get it!) embarks on a quest to infiltrate Mishima's headquarters, steal the Daikatana, and put an end to his tyranny by traveling into the past to carve out a new future.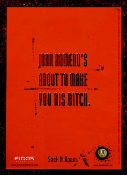 Time travel is always an iffy concept, and of course the plot is full of holes. For example, both Hiro and Mishima somehow end up with a Daikatana of their own, with Mishima claiming to have traveled back in time to acquire it. It hurts my head to think of how that would mean two can exist, and of course, if the swords touch then the universe will implode. Hiro meets two companions along the way, who travel with him and always show up in cutscenes, but are never anywhere to be seen during gameplay. Evidently, these two characters were AI partners in the PC game, but were removed from the N64 version due to developer laziness memory limitations.
The level designs are largely linear, with the goal most often being to reach the end of the stage. Enemies are equally straightforward, consisting mostly of basic humans with some kind of gun. A few stages require collecting a certain number of items scattered around, which can lead to boring searching of every inch. A couple of poorly-done puzzles are tossed in for good measure. As one example, striking the pipes from a musical instrument in the right order will open the way forward. The order is revealed from an NPC's whistling, but he leaves out one note, and it's difficult to translate the notes he does offer to an instrument of lower pitch. I was left with a choice of spending an hour trying every combination, or looking it up online, and let's just say, this is one time I'm thankful I live in the Internet age.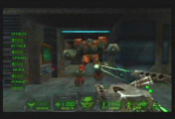 The game features a variety of weapons from many time periods, which includes futuristic machine guns and explosive launchers as well as things like a discus and a magical trident from ancient Greece. One of the more powerful and satisfying weapons in the game is the hammer, where the swing can be charged up to unleash a strong shockwave that crushes nearby foes. The effects from the weapons are perhaps underwhelming, as many have a similar-looking explosion effect. Once a new time period is reached, ammunition for weapons obtained in previous times can no longer be found, giving them limited use outside of their period of origin.
The hook of this shooter is the leveling system, adding an element into an FPS which is usually present in RPGs. This seemed like an interesting idea in concept, but its inclusion is practically unnoticeable outside of a persistent HUD displaying the current stat levels. There are five individual stats with five levels each, vitality, attack, speed, acro, and power, and they increase one after the other once enough experience points are earned. The game doesn't explain which stat does what, and it's anyone's guess how "power" would differ from "attack."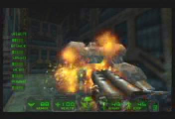 The game doesn't really seem like it was designed around this idea. There are never respawning enemies, and it's pretty much impossible to avoid enemies as you could in an RPG, so levels always remain constant throughout the game. There's no way to grind or run a low-level game, since there's no variation in experience gained. As the enemies and weapons change in each time period, level increases don't happen enough to be able to tell if weapons are becoming stronger. Movement and jump height didn't seem to change either. In the end, it's a hollow gimmick that does nothing but clutter up the HUD.
Despite all its shortcomings, beyond all its hype, and beside its quick port job, Daikatana is still not a terrible game. There are a few nifty weapons that can lead to brief moments of enjoyment, and some decent action here and there. That said, it's easy to see why critics were so harsh on the game, and in the end, it isn't worth playing. Not because it's bad, but because there's nothing noteworthy about it which would make it more worthwhile than any other FPS game on the system.