ECW Hardcore Revolution
Hardkorrrrrrrrrr
With a myriad of wrestling games available on the Nintendo 64, even the now-defunct Extreme Championship Wrestling got their own game. Released in the year 2000 however, there was no shortage of competition. Does Acclaim's wrestling game stack up to the series from AKI/THQ?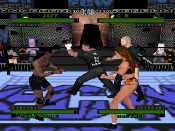 I'm certainly no fan of wrestling and have no interest to watch the psuedo-sport on TV, but I'm always interested in fun gameplay concepts even if the source material is a bore. The best thing about the wrestling games produced by the AKI/THQ combo is that they offered relatively simple controls, creating enough intuitiveness to make the gameplay somewhat easy to pick up. This allows even someone like me to jump in and enjoy the game itself despite not knowing or caring about a thing in wrestling.
This is where ECW really drops the ball. Instead of offering a similarly streamlined control style, the mechanics are more like a fighting game. Although there are the usual kicks and punches, the grapple moves are executed by inputting a combination of buttons and directions, some rather complex. Each wrestler has their own move list, and though there is some overlap, it's still a lot to try and remember. The amount of time given to input these commands is also pretty small, since the opponent can counter a grapple if the move isn't performed fast enough. Reversals also exist, though I didn't figure out how to do them myself.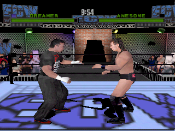 Anyone familiar with the ECW from the 90s will probably recognise most of the wrestlers featured here, but as someone who never heard of the ECW before this game, all of then are unknown to me. The game features all the stable match types, including tag, cage, battle royal, and more, as well as now-standard features like create-a-wrestler, offering plenty to do for anyone who does want a fighting game-styled wrestler.
The presentation is also a little strange. It's obviously supposed to be over-the-top based on the game title, which explains the heckling from the crowd, but the grunts and voices emitted from the wrestlers are just laughable. The way they say things like "Hey come on now" sounds more like a response to a lame punch line, and stuff like "No no no no no no" is comically stinted. Then again, having never watched any wrestling, I have no idea how accurate this is or isn't.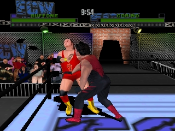 ECW may still satisfy old fans of the franchise who miss the label, though I have no idea if the wrestlers featured here went on to join the WWE or other wrestling franchises. Aside from that, there's just nothing worthwhile about this version of the sport to set it apart from the cream of the crop.

#Ecw
#N64