Nerds Without Pants Episode 110: It Takes a Village (Theme)
Plenty of tunes to accompany you on your journey.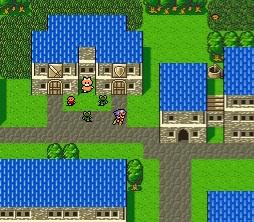 Welcome to a musical masterpiece edition of Nerds Without Pants! We are joined by John Brandon of the Square Roots Podcast, and this episode is so epic we had to split it into two parts. Let's jump into this one, shall we?
This first part of the episode is devoted to Angelo's Stage Select topic. We pick our top three town themes, complete with musical tracks and discussion. We have time to reminisce, tell funny anecdotes, and generally bask in the glory of video game soundtracks. It's a wonderful Stage Select segment that became an entire episode once the music was added, so check back for episode 110.5, where we handle Consumption Junction and Chrono Crossing for 1997.
FEATURED MUSIC
Delain featuring Marco Hietala- Sing to Me
Duncan Sheik- Mr. Chess
TRACK LIST
Stalker: Shadow of Chernobyl- Dirge for the Planet
Actraiser- Birth of the People
The Legend of Zelda: Ocarina of Time- Kokiri Forest
Lufia: The Legend Returns- Town of Albano
Final Fantasy IV- Mystic Mysidia
The Witcher 3- Fields of Ard Skellig
Nora to Toki no Koubou- Everyday Lifestyle
Chrono Cross- Guldove (Another World)
Chrono Cross- Marbule (Another World)
Pokemon Leaf Green/Fire Red- Lavender Town
The Legend of Zelda: The Wind Waker- Dragon Roost Island
Jade Empire- Metropolis I and II
The Legend of Zelda: Ocarina of Time- Gerudo Valley
The Legend of Zelda: Majora's Mask- Clock Town
Final Fantasy V- Home Sweet Home (vocal version)
Final Fantasy VI- Kids Run Through the City (piano version)