Rock Band 3 Hands On Preview
Who knew Rock Band 3 was headed to the DS? I didn't.
A surprise for me at Harmonix's/MTV's area was Rock Band 3 on the DS. I actually had no idea it was being made for the platform, and had very little idea of what to expect, though I had a hunch it would be like Amplitude or the iPhone Rock Band, both games I've never played.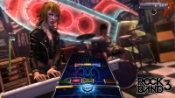 As one would expect, my hunch seems to have been correct, or at least it is if my knowledge of Amplitude is correct. The game is relatively simple: Press left, up, X, or A on the DS to hit jewel on the note highway as it passes on whatever instrument currently being played. To switch instruments, simply tap L or R, and instantly, you move to the next note highway for something else, either drums, keyboard, bass, vocals, or guitar. That's the bulk of the gameplay, simply stated. Various difficulties seem to add more complex parts, or perhaps reduce the segments where parts will auto-play themselves upon a correct string of consecutive notes at the right time. Additionally, there's a Pro mode for the game, but I could not determine what the difference was between the normal mode and the pro mode.
I didn't have much time to pick up detailed impressions, but I can certainly say a few things: It was difficult to pick up. Much like other rhythm games, a lack of experience and familiarity can make things a lot more challenging. It wasn't until halfway through the song that I was able to figure out which button coordinated to a fret on-screen without having to think about it, and beyond that, there's a strategical element behind playing a particular part of a song at the right time. I didn't see very many notifiers telling me when an important part for an instrument was coming up. Fortunately, though, for solos, it snapped me over to the correct instrument automatically.
At least until you get used to it, Rock Band 3 seems as though it could be a very difficult game. No reps were right on hand to ask about set lists, DLC or release dates, but the songs I saw looked to be very similar to the console versions of the same game. Hopefully it'll finally bring the Amplitude experience to the Nintendo DS, it could be a lot of fun.

#Music
#Mtv