Nerds Without Pants Special: Nierly There
Not using any music from Nier in this podcast: great joke, or epic troll? You decide!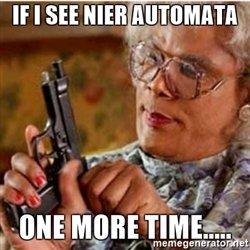 Welcome to a quick and dirty special edition of Nerds Without Pants! Episode 125 was going long, so this bonus episode contains the true ending to that episode, plus another 40-50 minutes of cutting room floor stuff. We talk mostly about Nier: Automata, but there is plenty of other stuff in there, as well. Hope you enjoy! Send your hate mail for Julian to twitter.
FEATURED MUSIC
Pikotaro- Pen Pineapple Apple Pen
The Gregory Brothers- Chicken Attack (feat. Takeo Ischi)
Pikotaro- I Like OJ