Nerds Without Pants Special: Thanos Quest
Thanos may demand your silence, but that ain't gonna stop us from spoiling Avengers: Infinity War!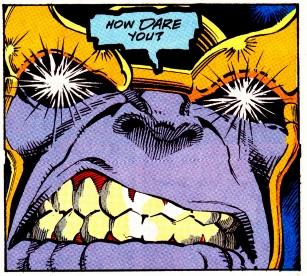 Welcome, True Believers! If you're reading this when it goes live, it's been a full week since Avengers: Infinity War came out in theaters. Plenty of time for you to have seen it by now. Or, if you're Julian, three times! So, it's time for a special spoilery discussion all about the movie with Friend of the Show John Gholson! Let's jump in!
We start things off by talking about our personal rankings of the 18 MCU films that precede Infinity War. Our lists may surprise, even startle you! Then, we talk about the original Infinity Gauntlet story from 1992 and how it related to our expectations of the movie. After that, we take you to spoiler country, so you have been warned! We go deep on [REDACTED] and how it relates to [REDACTED]. And of course, that leads into a heated debate over the relation between the [REDACTED] and what it could mean to [REDACTED]. THEN we talk about how shocked we were when [REDACTED]!
We end our discussion with some predictions of where we go from here, and what we are hoping to see in the Marvel Cinematic Universe moving forward. Enjoy the show! EXCELSIOR!