Scene It? Movie Night Review
RECOMMENDATION:

For movie buffs or those looking for a cheap and fun party game.

Scene It? has been around for a while now and there have been more than a few video game adaptations of the popular DVD/film based trivia game. Now the game based on the premise of useless cinematic know-how has wound up on the PSN and XBLA as a downloadable game. The move to a digital format makes perfect sense for this type of game, but this stripped down version fails to capture the more fleshed out experience we've come to expect from the franchise.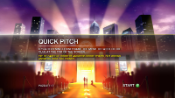 For those not familiar with the game, Scene It? is a movie trivia game that pits 1-4 players against each other to determine whose cinematic know-how reigns supreme. Trivia is split into a few different question type groups. Sometimes the game will play a movie clip and ask questions about the scene or the film in general, while other times the players will be asked to match the actor to a film or to order movies based on their release date. My personal favorites are when you're asked to identify a film based on a scene recreated with 8-bit style graphics.
With only a handful of question types it will only take two or three games to get an idea of the entire experience and with games only lasting about 10-15 minutes each it won't be long before you'll skip through the instructions for each section.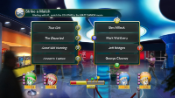 The biggest pitfall of any trivia game is the inevitable eventuality that you'll start seeing repeat questions. I started seeing repeats after a little more than two hours of gameplay, though there were still plenty of fresh questions to keep it from being a real issue. At $10 and DLC down the road, it's hard to argue that there isn't enough content for the price.
Scene It? Movie Night is a game best enjoyed with friends, though it can be played alone; a high score being the only real incentive aside from perhaps studying up on the questions before inviting your buddies over for game night. It's a straight forward experience and that's perhaps the biggest detractor. With only a single play mode, this edition lacks the variety that previous console entries have provided. There is also the supremely annoying disembodied voice that will repeat the same 5-6 movie quote lines between questions. If you can ignore him, nothing is going to bother you about this game.
There sadly isn't much else to say about Scene It? Movie Night. It's a game that will get some mileage out of movie buffs and as the occasional party game, but not much else. It's more good than bad so if you're into movie trivia it's worth the ten spot. Otherwise, just ask yourself if you feel lucky. Well do you? Punk?