Nerds Without Pants Episode 156: Driving With the Top Down
We're Cruis'n USA!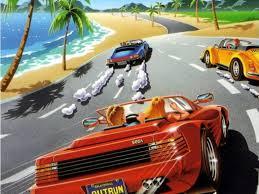 Welcome back to Nerds Without Pants! It's just Julian and Justin this week, and we THOUGHT it was a short episode. But then Julian realized that Justin picked a music topic for Stage Select, which tacked on 45 minutes of music into this bad boy. But hey, at least it's GOOD music, right? Right?!
00:00-11:20 Intro and Great Game Giveaway winner announced
11:42-1:57:02 STAGE SELECT: What is your favorite video game road trip song?
1:57:50-2:35:55 CONSUMPTION JUNCTION: Judgment, Bloodstained: Ritual of the Night, Quantum Break, Justin Hamm Dinner Theater
2:36:31-2:53:44 VIDEO GAME CAGE MATCH: Space Invaders (1979) vs Gradius (1985)
2:53:44-3:04:41 Outro and outtakes
NEXT EPISODE:
STAGE SELECT: What are your top three bits of future tech found in video games?
VIDEO GAME CAGE MATCH: Shadow of the Colossus vs Okami
GREAT GAME GIVEAWAY: Send the secret code phrase from this episode for your chance to win a copy of Wolfenstein: Youngblood or Bloodstained: Ritual of the Night
FEATURED MUSIC:
Theme to Space Ghost: Coast to Coast
Theme to Harvey Birdman: Attorney at Law
Theme to Aqua Teen Hunger Force
Theme to Sealab 2021