Nerds Without Pants Episode 166: We Stran.
Pure, unfiltered Fallek!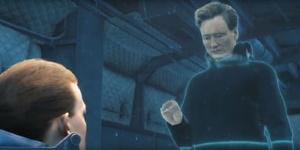 Welcome, friends, to the next episode of Nerds Without Pants that was actually recorded before the PREVIOUS episode of Nerds Without Pants! Come join us on a time travelling romp with Mike Fallek. We have no topic, no agenda, so that means this is pure, unfiltered Fallek. Um, strap in.
Included in this episode: The flying car, Mike's journey with retro games, the heyday of video game magazines, the early days of the internet, Warhammer: Space Marine, story in video games, Star Wars, Julian betting on the next generation, Batman: White Knight (spoilers), Dante's Inferno, pachinko for some reason, a whole lot about a small amount of Death Stranding, Justin's bad game corner, and much, MUCH more!
FEATURED MUSIC
CHVRCHES- Death Stranding
Low Roar- Don't Be So Serious
Major Lazer and Khalid- Trigger
Silent Poets- Asylums for the Feeling
Eminem- Stan