Nerds Without Pants Episode 265: I am Julian, Slayer of Malenia
Roll for initiative!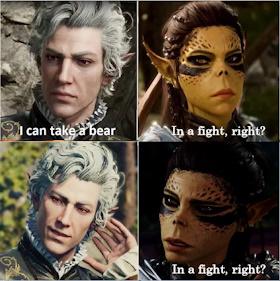 Welcome back to Nerds Without Pants! Julian totally forgot to come up with a Stage Select this week, so we just have a beefy Consumption Junction for you, and another Video Game Cage Match that rhymes. We hope you enjoy it!
00:00 – 17:42 Saying goodbye to wrestlers
18:16 – 2:44:14 CONSUMPTION JUNCTION: Baldur's Gate 3, Julian's Elden Ring platinum trophy, Armored Core VI, Stray Gods, Barbie, House of Leaves, Immortals of Aveum
2:44:53 – 2:58:15 VIDEO GAME CAGE MATCH: Astral Chain vs Code Vein
2:58:24 – 3:08:28 Outro and Outtakes
NEXT WEEK: Headlines! (send us emails!)
IN TWO WEEKS:
STAGE SELECT: What are some video game characters you love to hate?
VIDEO GAME CAGE MATCH: Jerry Rice and Nitus' Dog Football vs James Pond 3: Operation Starfish
SUBMIT YOUR COMMENTS BY 7:30 CENTRAL ON 9/8!
FEATURED SONG: Hey Pretty (2002 Drive By Remix), by Poe
Twitter: @NWPcast
Email: NWPcast@gmail.com
Our theme song "Relax" and interstitial tracks "To the Maxx" and "Moody Grooves" are written and performed by Megan McDuffee.