Press Release - VISCERAL GAMES ANNOUNCES AWARD-WINNING COMPOSER GARRY SCHYMAN TO SCORE DANTE
The Epic Journey through Hell Features a Dramatic Original Score from Heralded Film, Television and Video Game Composer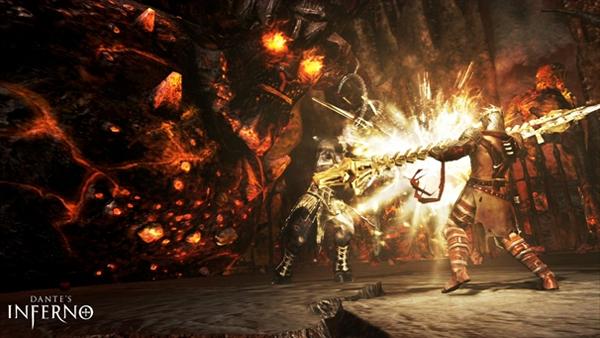 Redwood City, Calif. - September 9, 2009 - Visceral Games", the developers behind the critically-acclaimed Dead Space" franchise and a studio of Electronic Arts Inc. (NASDAQ: ERTS), announced today that award-winning film, television and video game composer Garry Schyman will be creating the hellish score for the highly anticipated 3rd person action adventure game Dante's Inferno. The renowned composer, who won many prestigious awards most recently for his work on BioShock, is creating a dramatic score that sets the tone for Visceral Games' adaptation of Dante Alighieri's epic poem.
"Our primary goal with this project is to bring Dante Alighieri's vision of hell to a new audience and a new medium, and that goes beyond the visuals," said Jonathan Knight, executive producer of Dante's Inferno. "The sound and music are equally critical to the experience, and Garry's epic score will add layers of power and tension, as gamers descend through the nine circles of hell. We are incredibly fortunate to be working with talent of his caliber."
"Scoring Dante's Inferno was one of the most interesting and challenging projects I have ever tackled," said Garry Schyman. "Literally being asked to score hell was fantastic especially once I saw the surrealistically frightening world that Visceral Games had developed. I thought long and hard about every piece of music I wrote to create something new, surprising and fitting. It has turned out to be one of the most creative experiences in my career."
The orchestral score and chorus were recorded in July at the historic Abbey Road Studios in London with the Philharmonia Orchestra and Metro Voices. The score soundtrack is planned for release in early 2010.
In Dante's Inferno, players will assume the role of Dante as he travels on an epic descent through Dante Alighieri's nine circles of hell - limbo, lust, gluttony, greed, anger, heresy, violence, fraud and treachery. Each circle features unique environments, all new creatures and demons, specific story elements, and are scored distinctly to set a tone that fits each circle of sinners. The blockbuster video game adaptation of part one of Alighieri's epic poem The Divine Comedy will be available in North America beginning on February 9, 2010 and in Europe on February 12, 2010 for the Xbox 360 video game and entertainment system, the PlayStation3 computer and entertainment system and the Sony PlayStation Portable (PSP).
Dante's Inferno has not yet been rated by the ESRB or PEGI. For more information on Dante's Inferno, please follow the Dante's Inferno team at Visceral Games on Twitter at www.twitter.com/danteteam and visit the game's official web site at www.dantesinferno.com where the team explores a new circle of hell, with new content and updates on the ninth day of every month.