New Dance Dance Revolution Songs and Features Revealed
New songs for the next DDR game, simply called DanceDanceRevolution, have been announced by Konami including tracks by Ke$ha, Paramore, Sean Paul, Train and Lady Gaga.
Konami is set to bring the heat to the dance floor later this week with the release of a new DDR title. Called DanceDanceRevolution, the game will feature a total of 50 tracks across various genres of music. Konami states that there will be about 20 licensed songs from popular artists including Lady Gaga's "Bad Romance", Train's "Soul Sister", Jordan Spark's "Battlfield", and "We Are Family" by Sister Sledge. The rest are expected to be composed of Konami Originals.
The title will be available for the Playstation 3 and Nintendo Wii. Those familiar with previous Wii releases know that past titles have included support for motion controlled dance moves and 4-player games. There is also a new Choreograph Mode where you attempt to mimic an on-screen dancer along with Balance Board options.
Now that the Playstation Move is out of the gate swinging the PS3 game pulls out similar motion controls and 4-player support as well. The use of the PlaystationEYE allows you to see yourself dancing along to the beat and once you have finished your performance there is the option to save, edit and post your dance to YouTube and Facebook so you can further impress your friends with your talent or lack thereof.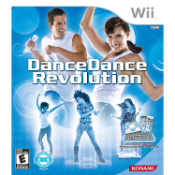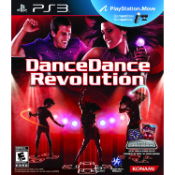 The complete list of songs revealed so far is:
Licensed Master Tracks

According to You - Orianthi

Animal - Ke$ha

Bad Romance - Lady Gaga

Battlefield - Jordin Sparks

Celebration - Kool and the Gang

crushcrushcrush - Paramore

Dancing in the Street - Martha and the Vandellas

Hey, Soul Sister - Train

I Got You - Leona Lewis

I'm Yours - Jason Mraz

Love Like This - Natasha Bedingfield

Love Shack - The B-52's

Missing - Everything But The Girl

My Life Would Suck Without You - Kelly Clarkson

Need You Now - Lady Antebellum

Plastic Beach - Gorillaz (feat. Mick Jones & Paul Simonon)

Rio - Duran Duran

So Fine - Sean Paul

Venus - Bananarama

We Are Family - Sister Sledge

Konami Originals

Rescue Me - NAOKI feat. Fracus

dreaming can make a wish come true - jun & NRG Factory feat. Anna Kaelin

Private Eye - atomsoak ft. cerol

IN THE ZONE - U1 (NPD3 style) & KIDD KAZMEO

Top The Charts - J-Mi & Midi-D feat. Hanna Stockzell

Let's Get Away - NAOKI featt. Brenda Burch

DanceDanceRevolution is stepping onto the dance floor November 16th. As with previous iterations it appears that the game is only available with a bundled dance pad to start and will later be available as a standalone disc.